New DIY Studio opens in Winter Haven
By Allison Williams
The Makers Co. is a new small business located right in Winter Haven. Gina Smith, owner of The Makers Co. started her DIY studio business just a few months ago. Working for several years as a nurse, she decided it was time to find something else she was passionate about to share with others.
"I love to craft," Smith said.  "I went to a workshop and thought this would be a really great business."
After Smith attended the craft workshop, she knew it was the right time to pursue her passion.
"The seed was planted and this year I really started giving it some real thought about starting my business," Smith said. "I chose to start it out of my home and so we have a studio set up that can accommodate about 12 people."
Since opening officially a few months back, Smith has seen the momentum shift. She has started her wood sign workshops to share what she loves to do with others.
Smith's husband, Darryl has been hard at work making new work stations to use in their home studio. On Sunday, she hosted a wood sign workshop. Guests were able to get creative and choose their own designs or could pick from Smith's collection.
Each individual started with a blank wooden pallet. Smith walked everybody through the process, step by step.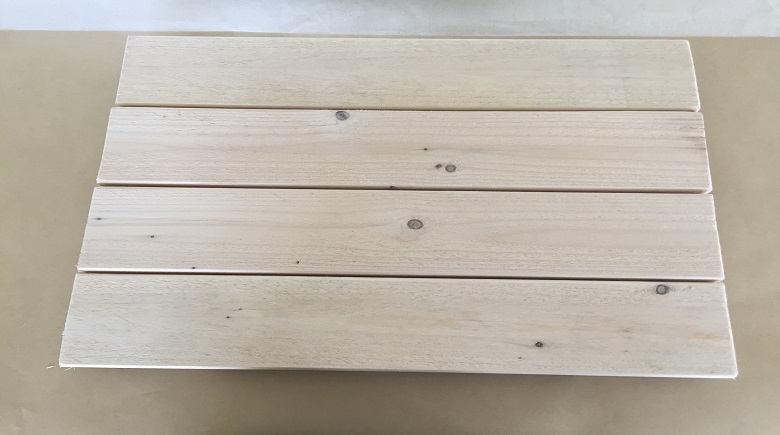 First the pallets were sanded down to create a smoother starting surface. Then a base coat was put down over the wood. To give the signs a more rustic look and finish, a second coat was placed on top and then sanded down.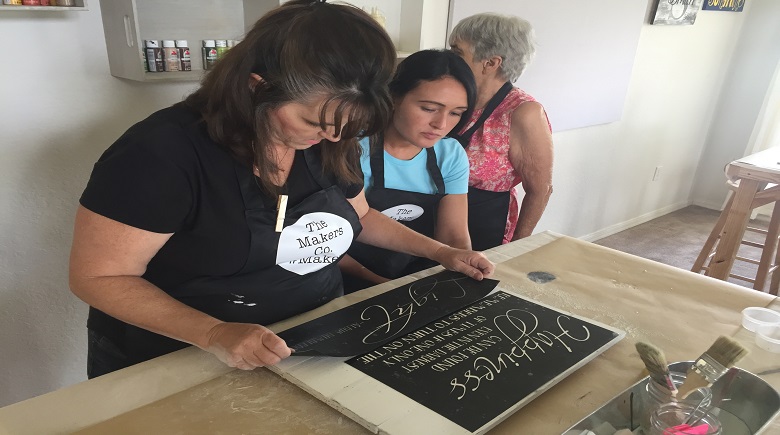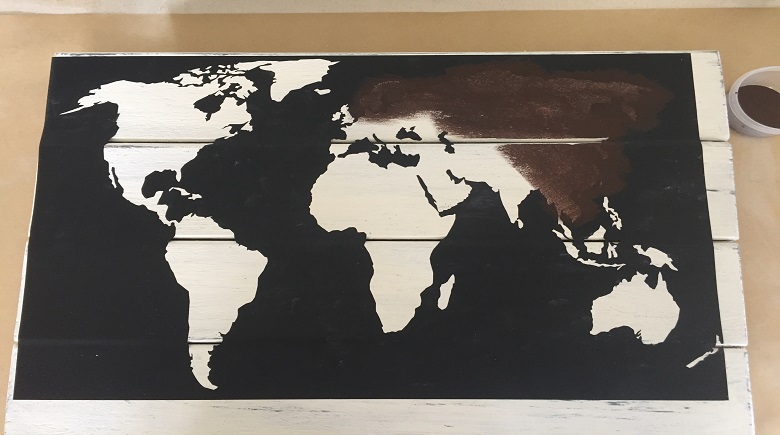 Next was the stenciling. Each person was given a stencil sheet of the artwork piece they picked before attending the workshop. After choosing colors and painting, each piece of art was truly one of a kind. Everybody was happy with the outcome.
This is the part Smith loves about what she does. "At the end of it, seeing everybody really happy about what they made and being able to say 'wow I can do it' is her favorite part. People get really scared and apprehensive. People feel they aren't artistic. I try to be as helpful as possible. If you need help I want to help you, but I don't want to hover."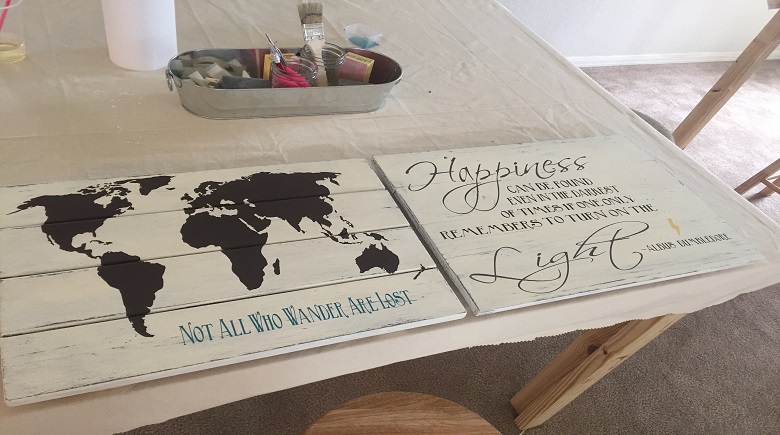 She allows each person the opportunity to be imaginative, but is always ready to step in and help when needed.
Maybe creating artwork isn't for everybody. This is why Smith also offers custom orders. "People who want a sign but don't want to do a workshop can definitely place an order," Smith said. She also has ready-made signs and other artwork available for purchase at Rustic Rose Vintage Shop in downtown Winter Haven.
For now, Smith is running the wood sign workshops out of her home studio. Her future plans are to open a brick and mortar storefront here in Winter Haven.
For those interested in learning more or signing up for a workshop, visit https://themakerscofl.com.
"No artistic ability is needed and everything you need is supplied," Smith said.
The next workshop is scheduled for August 25 at 1:00 p.m. Cost is $35. This is a "pick your design" workshop.
Special events are also encouraged and can be arranged:
Private parties
Girls' night out
Baby showers
Bridal showers
Holiday parties
Birthday parties
Team building
To see work from previous workshops, visit The Makers Co. Facebook page:
https://www.facebook.com/themakerscofl/
Instagram:
@themakerscofl