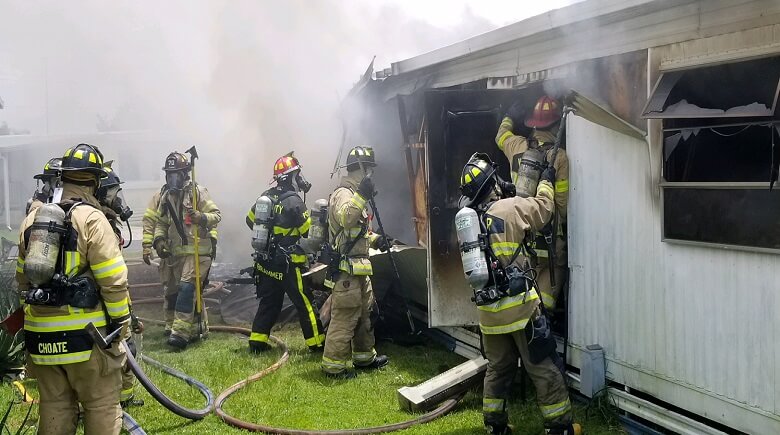 *** UPDATE ***

69 year-old Edwin Stensel was cooking inside of his kitchen when the fire erupted.  Stensel, who is on oxygen with a tank he carries around, was able to exit the residence as the fire intensified. Stensel, a retired veteran, suffered smoke inhalation as he exited the residence.  He was taken to a local hospital for treatement where he remains this evening in stable condition.

While on scene, responders heard the faint sounds of "meow" and began to find the source of the sound. A storage shed directly adjacent to the carport area of the home had numerous boxes and pallets inside. When investigators looked further, there was a box located with newborn kittens inside. It was determined the kittens were from a stray mother cat in the area. At this time, nobody has indicated they knew the kittens were there nor if the mama cat was known to anyone in the area.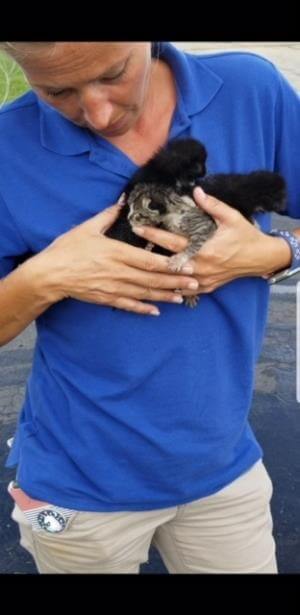 Photo is the park manager holding the kittens after investigators found them. Polk County Animal Control took the kittens in their care. The mother was not  located. 
Winter Haven Fire Fighters Battle Blaze While Ammunition Inside The Structure Goes Off

Yesterday at 1:24 p.m., the Winter Haven Fire Department responded to 64 Palm Lane Dr. in the Cypress Shores Mobile Home Community that is located just off Hwy 92 in Winter Haven. The disabled veteran living in the home escaped the fire, but was transported to a local hospital for smoke inhalation.

When fire fighters arrived, there were rounds of ammunition located within the home that were firing off from inside the structure. Flames were coming from the front of the home as well as both sides. The intense heat was starting to melt a neighboring home's siding and carport. There were two LP tanks on the outside of the structure, but the firefighters were able to keep the tanks from exploding. 

It took approximately 20 minutes for the fire to get under control. There were seven fire units that responded along with water tankers from the Auburndale and Lake Alfred Fire Departments. One firefighter was treated for heat exhaustion at the scene.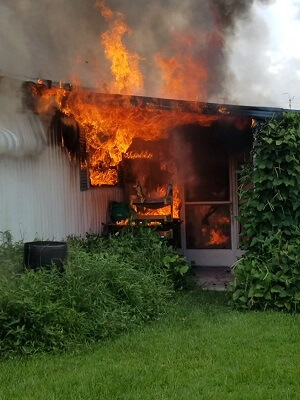 The fire is under investigation. No injuries to any other residents in the mobile home park and no other structures were damaged.

"The close proximity of these homes poses huge challenges to fire fighters," said Police Chief and Fire Administrative Director Charlie Bird. "Our fire fighters did an outstanding job in protected neighboring structures as well as ensuring the two LP tanks did not explode."