Anytime Fitness in Winter Haven Celebrates Five Years in Business
By Allison Williams
Photos provided by Anytime Fitness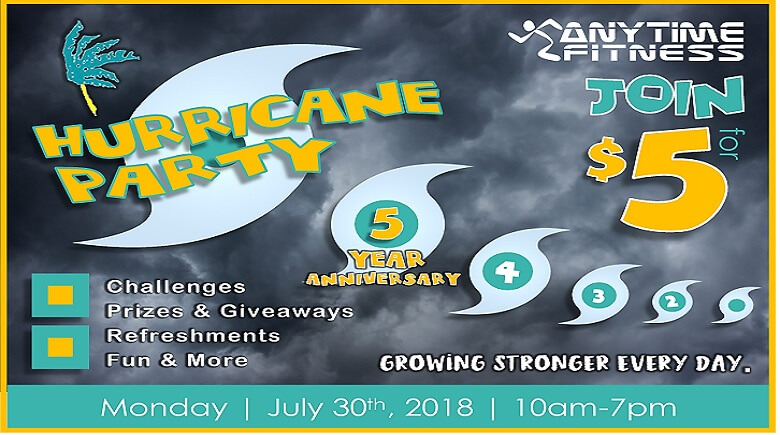 On Monday the Winter Haven Anytime Fitness staff hosted a Hurricane Party to celebrate their five-year mark of being in business.
Jessica Spain, manager at the Winter Haven location was pleased with the turnout of the event.
"It was a good turnout," Spain said. "The members were loving it. It was just a good day."
The day was filled with excitement and activities for all to enjoy. There was a photo booth set up for members and guests to strike a pose in.
Throughout the day, people were invited to participate in various challenges. Brian Dyke, Regional Team Leader explained how the challenges worked.
"We had five different levels, category 1 through 5 for our hurricane party," Dyke said. "When you got up to the higher level category, the higher the intensity of the workout so it was worth more raffle tickets."
Those who participated in the workout challenges got an extra burn. Many participated in the challenge and then went on to their normal workouts.
Everyone who participated in a challenge received at least one raffle ticket. For those who pushed their limits and challenged themselves to the higher category workout challenges, they received more raffle ticket entries.
At the end of the day, the Anytime Fitness staff drew winners. Shane Davis won a prize basket. He received a "swag" basket with prizes including sunglasses, t-shirt, and towel among other goodies.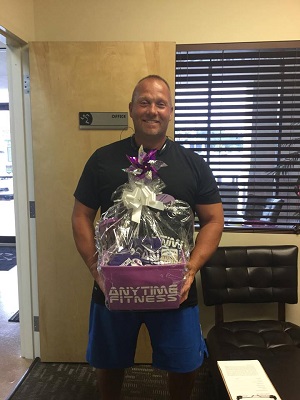 The other prize up for grabs was a basket filled with supplements including proteins, aminos and omegas.
To keep the fun going, a DJ from CMDJ based out of Orlando was spinning beats throughout the day inside the club.
The DJ helped pump everybody up who entered the gym. "It was super high energy," Spain said. "The whole day was a good feel and good vibe in the club."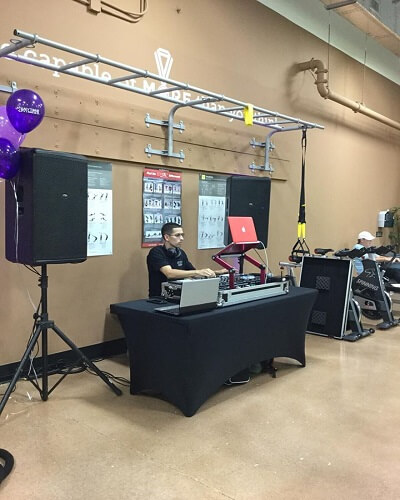 With new and familiar faces entering the fitness center throughout the day, Spain was grateful for all. She wanted to focus on both member appreciation as well as community member appreciation.
There was a fruit tray set out in the morning for all to enjoy, and later staff members set up a taco bar. Custom-made Anytime Fitness LED flashlights were also given away.
To keep the five years in business and five categories of challenges theme going for the Hurricane Party, the club was offering a special for new members to join for only $5. Members who referred friends would receive a free month.
The sale still stands! Stop by Anytime Fitness in Winter Haven or call for more information. The sale officially ends Friday.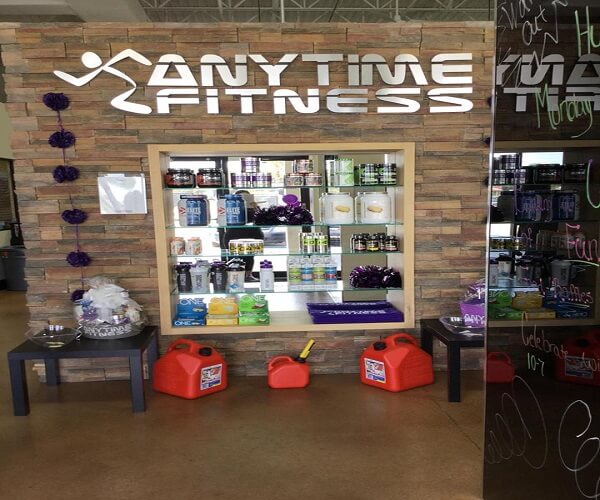 Anytime Fitness address:
710 Cypress Gardens Boulevard
Winter Haven, FL 33880
Phone:
863-280-6954
"We just want to thank the community for supporting us for five years," Spain said. "If you want an awesome gym experience, we are it."
Website:
https://www.anytimefitness.com/gyms/3278/Winter-Haven-FL-33880/
Facebook page:
https://www.facebook.com/AnytimeFitnessWinterHaven/