Anytime Fitness in Winter Haven Celebrates Five Years with a Hurricane Party
By Allison Williams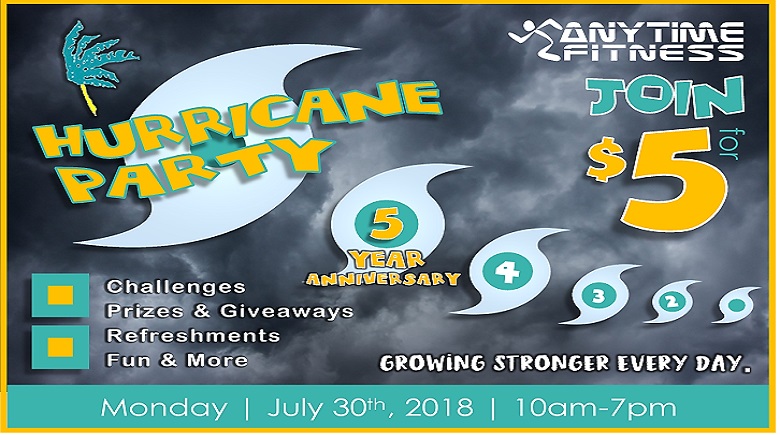 The Anytime Fitness in Winter Haven has a lot to celebrate as their five-year anniversary approaches. On Monday, July 30, they will be celebrating five years in business at the Winter Haven location.
Brian Dyke, Regional Team Leader has been a part of the Winter Haven team since the fitness center opened five years ago.
"We've been able to help so many people," Dyke said. He has watched the fitness center grow as whole over the years. He added, "Ninety percent of small businesses close in the first 5 years." He is proud of this milestone to make it to the five year mark since not many businesses do.
The official five-year mark is July 30. On this day the fitness center will be hosting a hurricane party. The party will be similar to the frequent open houses they host each month. There will be plenty of fun activities going on throughout the day.
"We will have refreshments, a workout challenge, prizes and all kinds of stuff," Dyke said. "We will have some other miscellaneous fun activities going on and a sale for people to join and take advantage of."
Click the event Facebook page below for more information:
https://www.facebook.com/events/1927295307293054/
Those who have been considering joining a local gym can stop by Anytime Fitness at 710 Cypress Gardens Boulevard for more information. The hurricane party will be during staffed hours from 10:00 a.m. – 7:00 p.m.
"It would be great time to get a jump-start on your health and fitness before the holidays," Dyke said.
To keep the "five" theme going, staff is offering a special for new members. Join for only $5. Members who refer friends will receive a free month.
Not able to attend the hurricane party? You will have until the end of the week to join Anytime Fitness for the $5 special.
"It's definitely important for us to continue to help the community with health and fitness goals," Dyke said. "It is exciting to believe that we've been in business for 5 years already. It's gone by so fast."