Chat And Chew Meet Up To Eat Out Fills Bambu Bar
by James Coulter
When you're on a diet, especially a plant-based diet, finding a meal that's quick, cheap, and healthy can be quite the hassle.
Fortunately, Bambu Bar in Winter Haven provides healthy and nutritious meals that are both good for you and even greater for your wallet.
While not strictly plant-based, this small cafe offer smoothies, freshly-squeezed juice, and other healthy edibles made from fresh produce and ingredients that are ideal for any healthy diet, be it vegan or paleo.
"I believe that our society is lacking in restaurants like this," said owner Jennie Harrison. "Most fast food chains use convenient ready-to-go food, whereas we take time to clean our own produce and make our own salads that are not pre-packaged and ready to be thrown in a bowl."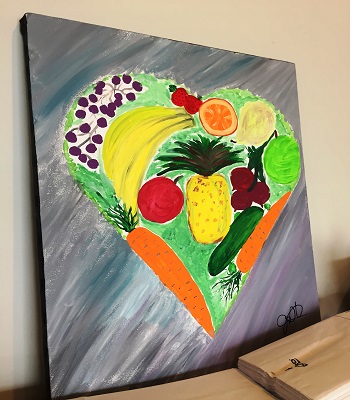 Last Tuesday, Bambu Bar was able to showcase their food to prospective customers during a special dinner hosted by local health advocate group, Chat and Chew.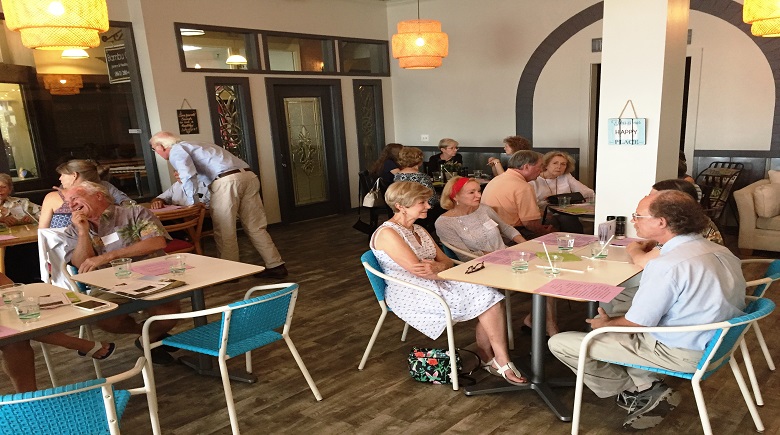 More than 38 people visited the cafe to enjoy an evening of healthy soups, salads, and sandwiches, while also being taught about healthy whole food plant-based nutrition through lectures and even music.
Harrison first became involved with the group a few years ago when her restaurant was in its former location, and the first event she hosted with them drew in around 10 or so people, she said.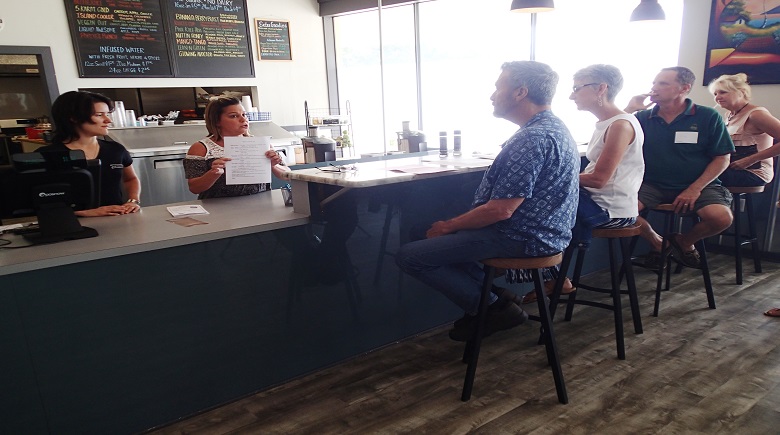 She appreciates the message that it has to offer the local community about healthy eating, and was more than willing to help them spread this message with events such as this.
"It was wonderful," she said. "I love having different groups come here and see what we have to offer."
Started by Cathy Thornhill in 2013, Chat and Chew is a local health advocacy group that promotes whole food, plant-based nutrition.
While not strictly a vegetarian or vegan group, they do advocate for a meatless approach towards diet that emphasizes "more plants on your plate."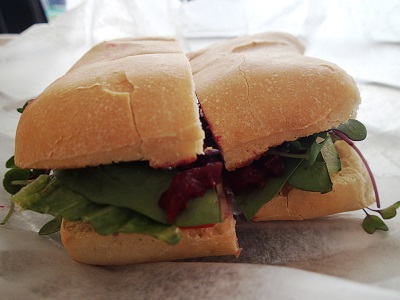 Chat and Chew helps educate the local community on healthy living through events such as this, as well as cooking classes, grocery store tours, and public teleconferencing chats with national health experts.
Their Meet Up To Eat Out event on Tuesday offered participants a chance to try out such a healthy lifestyle at a local restaurant, thus not only promoting healthy eating, but also local small businesses.
"I thought it was exciting to see that so many people came out on a summer evening to put more plants on their plate and have a social time with other people who like to do that," Thornhill said.
Providing live music entertainment that evening was Nat West on acoustic guitar as he played his own songs about whole food diets.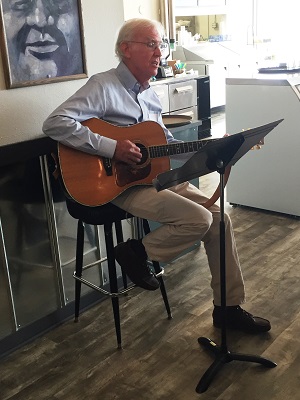 One such song, "Whole Body Effects", was a satirical jab at the pharmaceutical industry and how it often promotes medicine that makes people sicker through side effects rather than better.
"So often when you see medications on advertisements, they say that there are side effects when in fact they affect our whole body," he said. "So the song is quite humorous but also quite factual."
West himself became involved with the group four years ago after being invited by Thornhill. After attending several presentations and reading up on the recommended literature, he was inspired to take up a plant-based approach himself.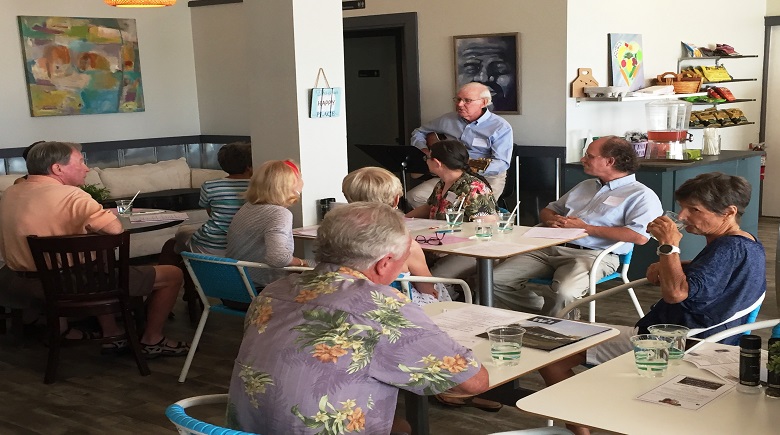 After the first four months, he dropped 15 pounds; and after four years, he managed to drop 34 points from his cholesterol, so now he feels even healthier than ever, he said.
For him, such a change in diet was of course difficult at first, but it proved beneficial in the long run, which is why such a change can be hard for most people, he said.
"To me, it is short term pleasure," he said. "You may want that milkshake or that steak versus long-term benefit, and that seems to be the issue to me."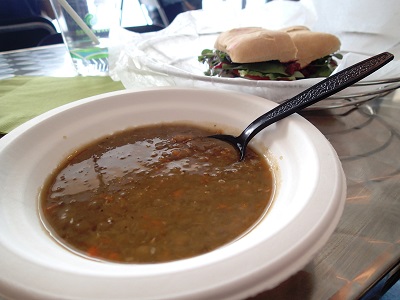 Whether you are looking to drop a few inches from your waist or a few points off your cholesterol, Chat and Chew will help provide you the information for a healthier you.
"Everybody comes with their own goals, and if you have a goal with health and diet, this is a place where you can get the information you can use to meet your goal," Thornhill said.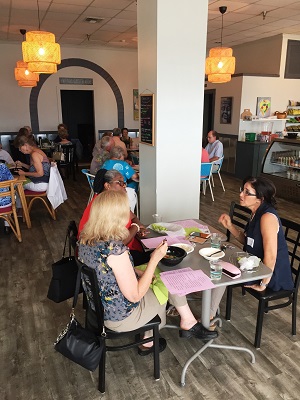 Their next Meet Up To Eat Out will be hosted at Cornerstone Grill in Lake Alfred, located at 175 E Haines Boulevard, later in July.
For more information on this and other future events, visit their Facebook page at: https://www.facebook.com/Chat-and-Chew-More-Plants-1578022735745353/