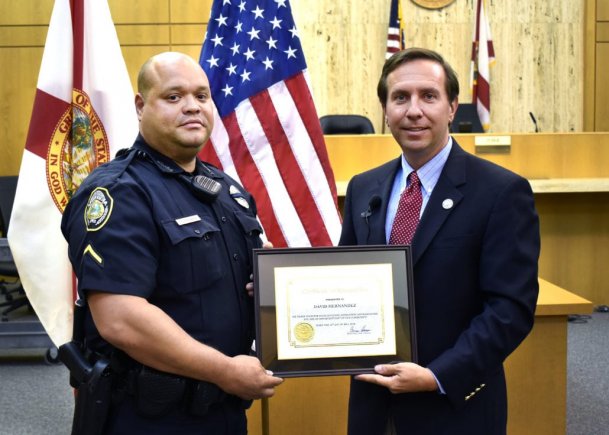 Lake Wales, Florida – Recently Lake Wales Police Department Detective David Hernandez was honored for his work on the Willie Watson case. Watson was recently sentenced to 20 years in prison.
On a peaceful Sunday morning in Lake Wales, on January 8, 2017, Willie Watson, III, brought terror to the local residents enjoying breakfast at McDonalds. Watson decided he would commit an armed robbery at McDonalds by running in, raising a gun over his head, and firing a shot into the ceiling.
He yelled commands to the employees to hand over money and prevented terrified customers from leaving. Watson then fled the scene.
"Thankfully, Detective David Hernandez was on this case and was determined to track down the person responsible for this crime," said State Attorney Brian Haas.
Hernandez quickly took action to secure all evidence and take crime scene photos himself.
He recovered surveillance footage of Watson exiting a minivan outside the McDonald's wearing a dark colored hoodie and a red bandana covering his face. He was also wearing black gloves and was holding a black firearm.
A gunshot residue test was conducted on Watson after he was arrested, and residue particles were found on his hands.
A single black glove was left at the scene, and the DNA on it was a match for Watson. A shell casing was also located at the scene.
When Hernandez searched the minivan Watson was seen exiting on the surveillance footage, he found a firearm. It was a match for the casing.
Assistant State Attorney Mikaela Perry credited Hernandez's quick and thorough actions with solving this case.
At the jury trial, Watson was convicted of attempted armed robbery with a firearm, shooting into a building, and aggravated assault with a deadly weapon. He was sentenced to 20 years in Florida State Prison.
"We are blessed in the tenth circuit to have many wonderful officers and deputies. Each day and night they put on their uniforms to protect us, not knowing if they'll ever return home," State Attorney Haas said. "They investigate cases and do not give up until every lead is pursued and every angle is worked."