Leadership Winter Haven Alumni Share Their Experiences
by James Coulter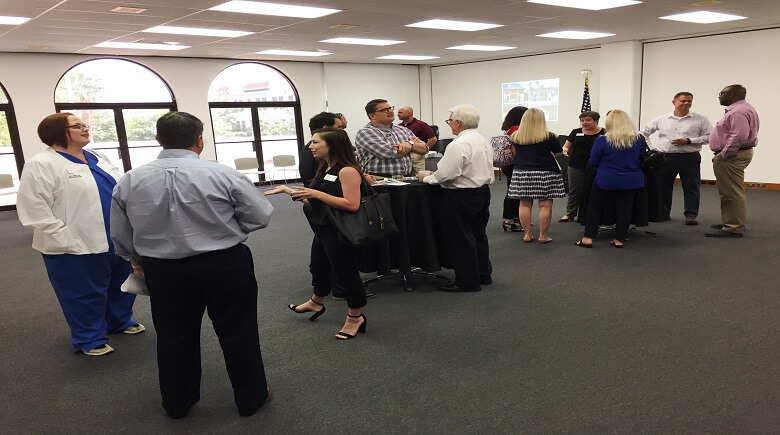 When Becky Helms, Senior Sales Manager of LEGOLAND Florida, decided to move to Winter Haven, she preferred to live within a small town like Winter Haven rather than a bustling city like Orlando.
Not only does such a town allow her to live within a much quieter setting with less hassle and traffic, but it allows her to better know the people she lives with, she explained.
"I love being able to visit the wine bar and see someone I know there," she said. "I love going to a Chamber event and see people I was in a class with along the way."
Upon buying her house and moving to Winter Haven back in 2007, she desired to become a part of the community and learn more about it.
That desire compelled her to attend Leadership Winter Haven as to better learn the ins and outs of her local community and everyone and everything within it.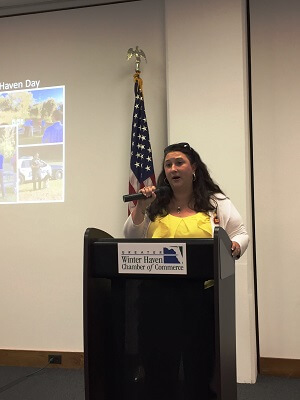 "It allowed me to become part of the people in my community, but it also allowed me to learn more about the industries and the services and the businesses and the people that are in this community that really make us who we are, and I think through this class you'll learn how special Winter Haven is," she said.
She has since become the day chair for her class's Tourism Day at LEGOLAND Florida, and has now become the co-chair of this year's class.
Speaking from experience about how the class benefited her, she encourages others to enroll within it, as it will allow them a better opportunity to learn about their community.
"I encourage you all who are thinking about it, to really take that plunge," she said. "It is a commitment, but you will be rewarded for it…and it will really pay back where you are living, so it really opens up your eyes to the wealth of things we have in this community."
Helms shared her experiences with the program during an "Everyone Bring One" event last Tuesday at the Winter Haven Chamber of Commerce, which allowed alumni the opportunity to discuss the program with potential members.
Leadership Winter Haven is a program which, according to its website, "has been dedicated to developing a well informed and diverse pool of leadership talent ready to help the community and area reach its full potential."
Since its start in 1980, making it the second oldest leadership program in Florida, the program has allowed its participants to learn more about their surrounding community and the various industries and businesses within it.
The class included various themed days with tours and field trips of the city's various industries and aspects from culture, art, politics, and tourism.
"Class participants can learn more about different industries within Winter Haven and the surrounding areas, not from a surface perspective, but they will actually get to know how a business works and show how it works," said Amanda-Jo Nicholson, Vice President of Member Services at the Winter Haven Chamber of Commerce.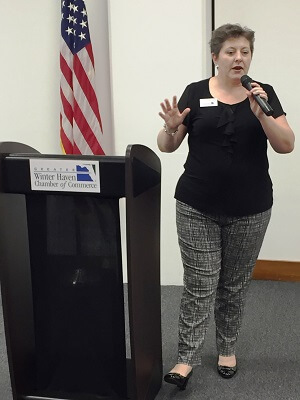 Historically, the program has enrolled more than 500 people, with approximately 27 within this year's class, Nicholson said.
Not only does the program allow its participants to learn about their local community, but build connections and relationships with local business owners and leaders, as well as each other.
"If you would like to build your network, build your connections, get to know more about the people and the places in the city you are in, Leadership Winter Haven is the program for you," she said.
Brian Reeves, an independent associate at Legal Shield, was able to extend his network thusly during his own involvement with the program.
During his own participation last year, he was able to partake in tours and visits of different businesses and establishments.
"One of the things I always try to do is be connected with local businesses and so on," he said. "I saw that as a way to see other aspects of the city I would normally not be able to take tours of."
During that time, he established many connections within local industries, but also with his own classmates, all of which has proven beneficial to his own career.
"Overall, I benefited tremendously from the program because a lot of times, you will find that even your classmates develop some great relationships long ever after the program has ended," he said. "It has helped me to make more connections from a business standpoint…[and] those connections are key to me continuing with my business."
As such, Reeves more than recommends anyone wanting to make an impact within their local community through their business consider joining the program.
"You will garner a lot of things from the program, not just on a business standpoint, but also grow as an individual learning different things, learning management skills, and so on," he said.
The deadline for Leadership Winter Haven Class 39 will be June 9. Interviews for potential participants will start in August, and classes are scheduled to begin in October.
For more information, visit: http://www.winterhavenchamber.com/leadership-winter-haven.html