Florida Polytech Starts Summer Camp For Disadvantaged Youth
by James Coulter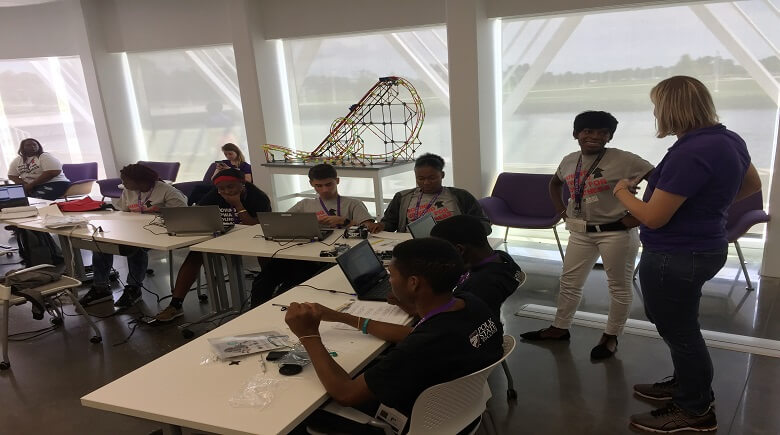 Motors buzz, fingers tap on keyboards, and high school students chatter as they built and programmed their own robots during a summer science camp workshop at Florida Polytechnic University.
The robots constructed were BOE-bots, or "Board of Education Robots", created from microcontrollers fastened onto motor boards and placed upon a wheeled chassis, and later programmed using C++.
The challenge during that day's class was to construct and program these robots to travel along two tracks on the classroom floor created with masking tape.
One track was a simple square, while the other was a more complex maze with plenty of twists and turns.
Upon completing their robots, the students, all divided into separate teams, had their chance to test out their robots and see how well they could traverse these tracks.
While the square track only required the robots to make simple right turns from start to finish, actually completing the course was anything but simple for the robots, as many of them either ran off course or failed to stay inside the track.
The very last robot, however, managed to complete the course perfectly, all while staying within the track.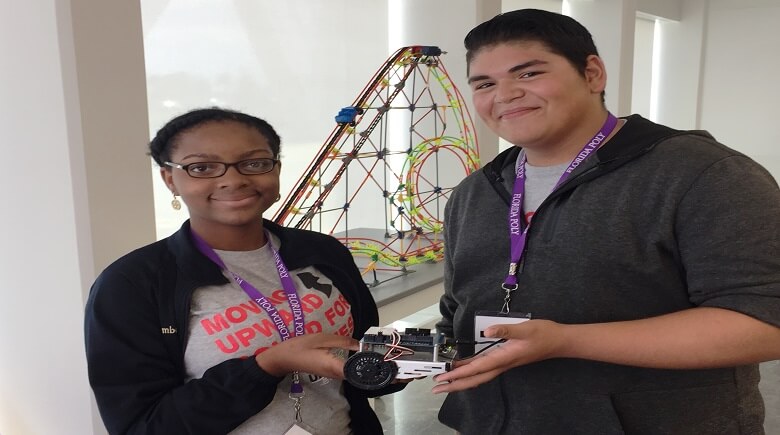 This robot was constructed by Kayumberly Wood, 17, and Kenneth Troche, 16, both Lake Gibson High School who were awarded a large bag of candy for their efforts.
Wood attributes their success to their sheer persistence, as even though neither of them had programed a robot before, they managed to challenge themselves to complete the task as best as they could.
This was the first time both of them had become involved in something related to STEAM (Science, Technology, Engineering, Art, and Math). For Wood, it certainly helped her gain an interest within the subject.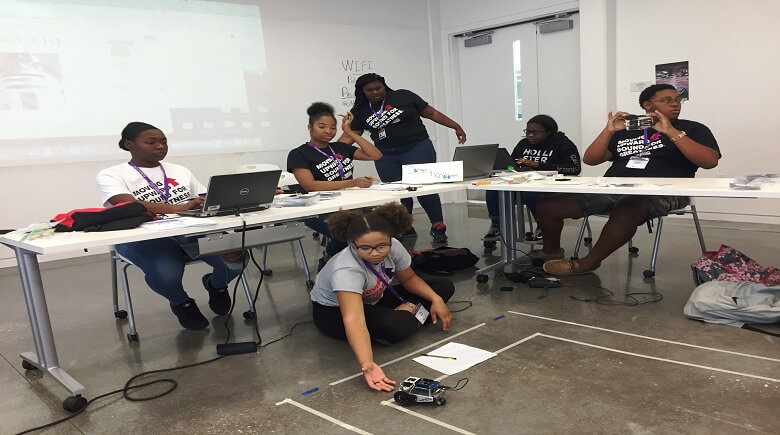 "I love that we were able to challenge ourselves and do stuff that we have never done before," she said. "It is cool being able to do something like this every day."
Troche, on the other hand, while he loved attending the camp and trying out new things, decided that STEAM was not the subject for him.
"I love the activities and competitions allowing us to think on the spot," he said. "I think it's cool, it is different things, but it isn't really for me."
These students were some of the approximately 30 students participating within the inaugural Summer STEAM Boot Camp at Florida Polytechnic University in Lakeland.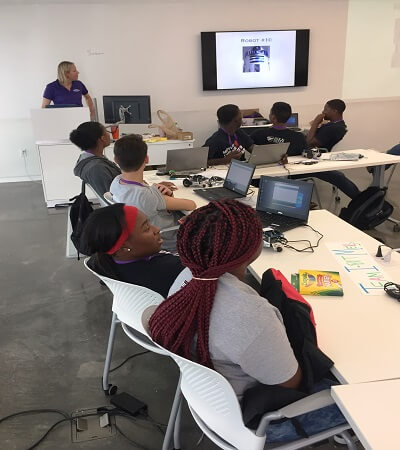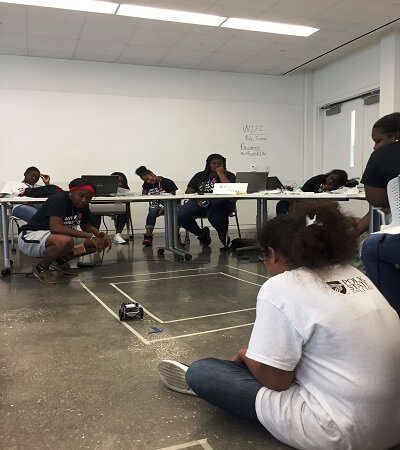 For one week since May 29, these students had the privilege of staying within the university's residence halls and attending classes and workshops hosted within the laboratories and by faculty members.
The summer camp was started as a joint partnership between the university and Polk State College (PSC) with the main goal of providing high-quality, hands-on STEM education for first-generation college students and economically-disadvantaged under-represented minority high school students.
The students attending the camp were participants of Upward Bound, a PSC project designed to help prepare high school students for both academic and proffesional success.
"Our job is to get them to college," said Stephanie L. Campbell, Director of Upward Bound. "That is their number one goal."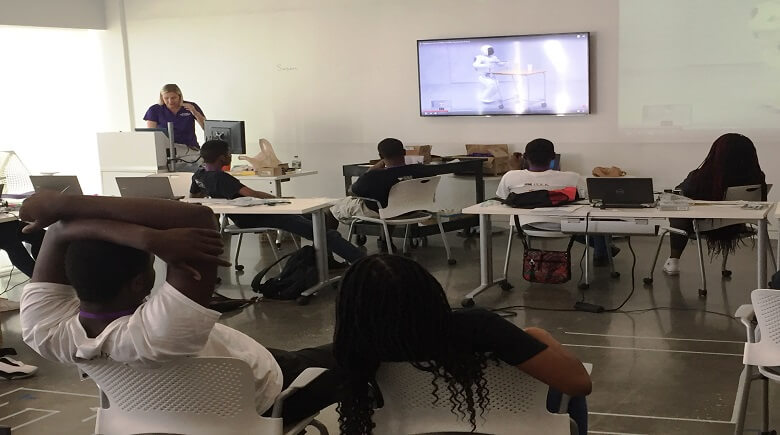 With this being the very first summer camp hosted in conjunction with Florida Polytechnic University, the camp more than exceeded initial expectations, as many students who had never engaged with STEAM were provided the opportunity to do so, she explained.
"Students are allowed to learn a technique, expand their knowledge and their learning capacity that they never encountered before," she said. "I know that some of them were afraid because they were in a new environment, but once they got here, they embraced it."
Susan Lefrancois, Assistant Proffesor of the Data Sciences and Business Analytics Department, hosted the robot workshop, and she appreciated being able to reach out to students who would have otherwise not received a quality STEAM education.
While her class more than met expectations, she expects to improve next year now that she has learned how to better engage with students who are otherwise not engaged in the subject matter, she explained.
"I know I can improve next year to get everything engaged," she said. "I want them to go outside their comfort zone, and [learn] that they can do that and fail, because it is okay to fail, and they can learn from it, fix it, and move forward."
For more information about Florida Polytechnic University and their programs, visit their website at: https://floridapoly.edu/