Special Needs Students Showcase Special Talents At Victory Ridge Academy Art Show
by James Coulter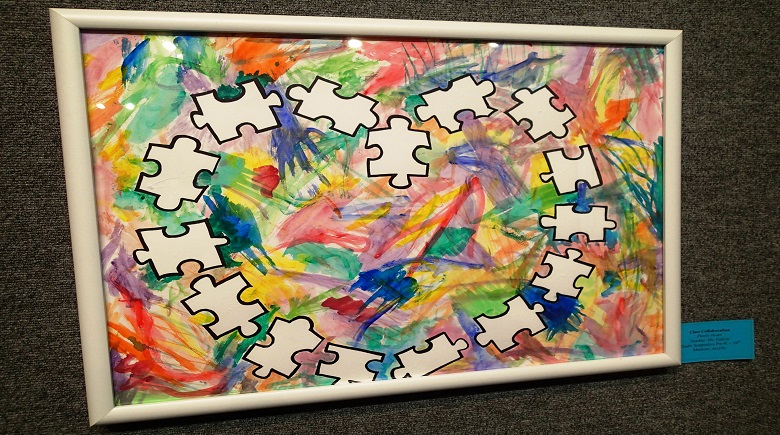 Noah, 12, is a shy young man, especially with him being diagnosed with Autism and ADHD.
Though he is reluctant to talk to others verbally, he is more willingly to express himself through his drawings.
One such drawing of a ferocious dragonhead currently hangs within the gallery of the Ridge Art Association for the art exhibition of his school, Victory Ridge Academy.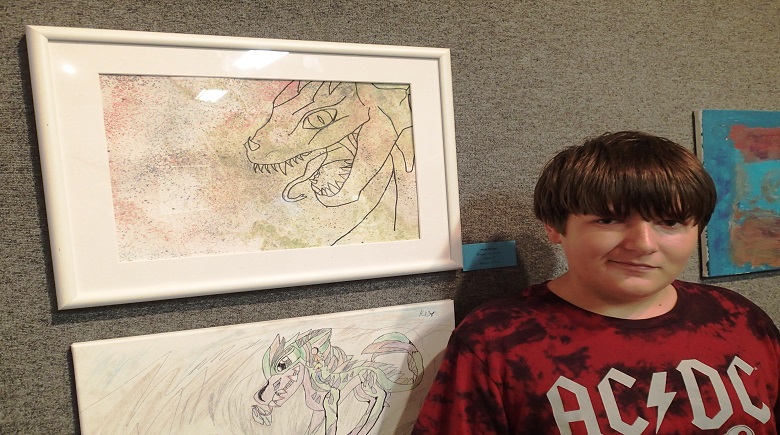 His dragon was created for a class assignment wherein he and his classmates were instructed to choose a subject from a book to sketch.
"It looks cool and awesome," he said. "Every once in a while I will draw something…It is a hobby of mine."
Noah attends Victory Ridge Academy, a free Polk County charter school located in Lake Wales that caters to students with special needs.
His mother, Jean Marie Scrima, has been sending him to the school for the past three years to help accommodate his special needs.
The care and attention he receives there is much more preferable than what is offered at any of the schools in their hometown of Lakeland. As such, she expects him to graduate from the school.
"There was nothing in Lakeland compared to the school," she said. "The teachers have been wonderful, and he responds well to that. The school has been helpful a lot."
As her son has been drawing for the past three years, she is not only proud that he has picked up a hobby outside of school, but that his own artwork has been selected for the school's art exhibition.
"I could not wait to see the gallery," she said. "The gallery turned out wonderful, and the school is great and wonderful."
The Victory Ridge Academy Art Show was hosted on Saturday evening at the Ridge Art Association, where the art exhibition will remain open to the public until May 20.
Steve Whittaker, Victory Ridge Executive Director, started the exhibition as a way to showcase the artistic ability of his students and staff.
"We have a lot of creative students and staff, and so much goes on inside the classroom that we have people to see it outside of the walls, and this is a way of doing that," he said.
Many of the artwork was created by students during their classroom and therapy sessions, with many of the art pieces being collaborative work among students.
One such piece was a melted wax painting of a guitar, with the rainbow colors melting alongside an outline of the stringed instrument against a black background.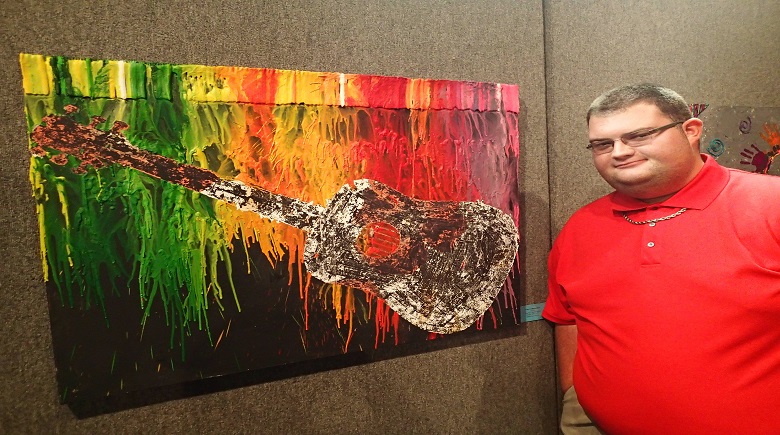 Robbie, 18, helped contribute to the painting by taping the outline of the guitar for the wax dripping.
As someone who loves to draw himself, especially with his personal efforts to draw a semi-truck, Robbie loves the art classes he has been attending.
"The classes have been awesome," he said. "Art is a good hobby to take."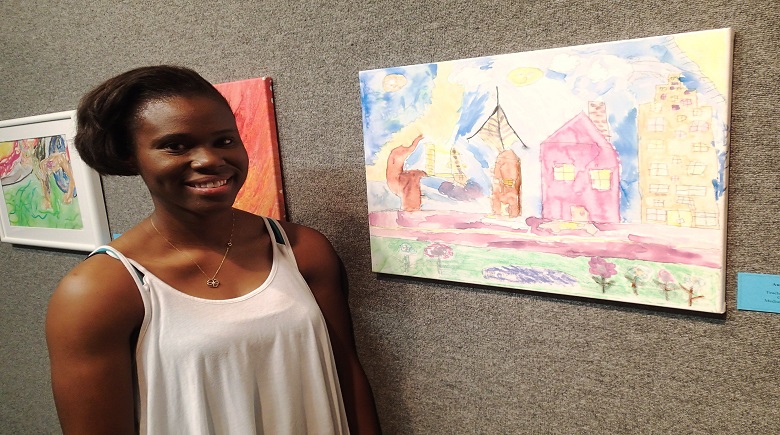 Kayla Lane, one of the teachers for the Picture Exchange Communication Systems (PECS) classroom for non-verbal students, helped suggest the art exhibition as a way to help showcase what students with special needs are capable of.
"I feel that so many people see just their disability and not what they can do, so I suggested we do an art show," she said.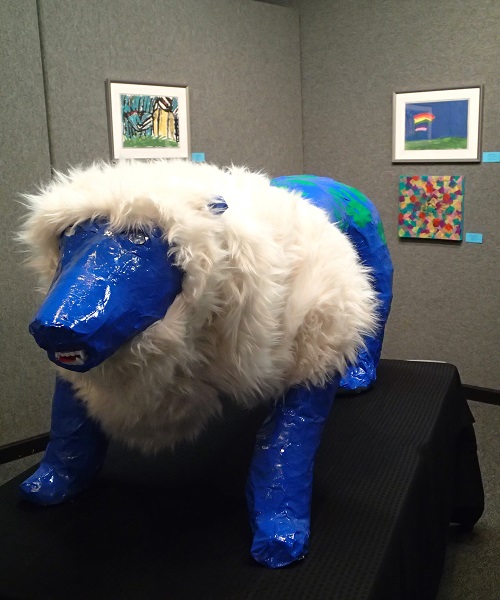 Even with many challenges such as obtaining funding, the art exhibition and show more than exceeded her initial expectations and those of the other faculty and staff, not only with the number of artwork created, but the number of attendees that evening.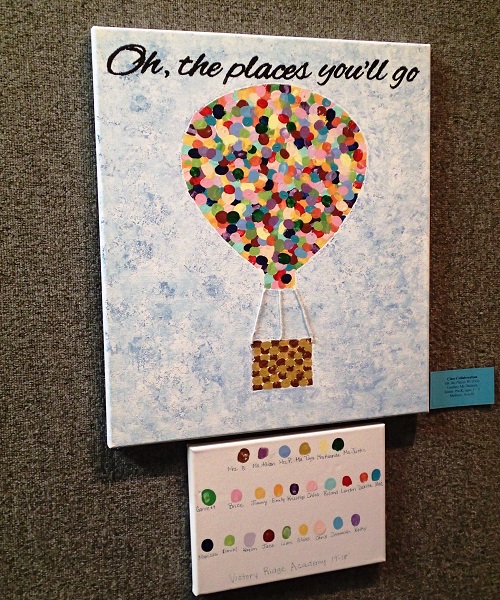 "We have to see past our kids and their disabilities, to not just see their labels, but to see them as a person," she said. "Seeing the kids and being proud of their artwork was what makes me happy. If nothing else comes out of this, it's the experience that the kids had."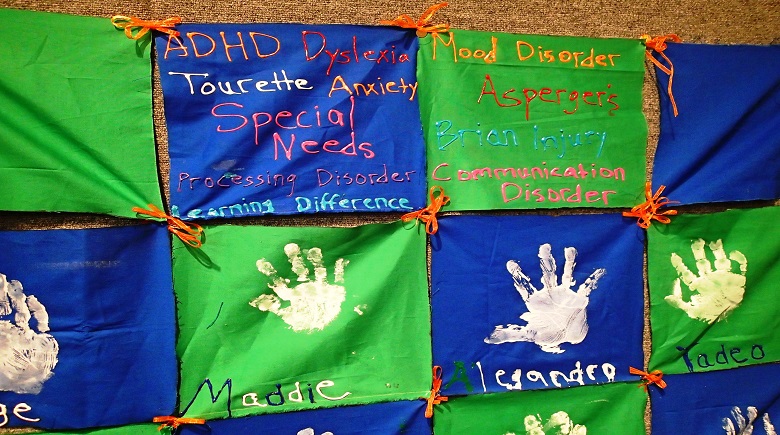 The Victory Ridge Academy Art Exhibition is being hosted at the Ridge Art Association at the Chain O'Lakes Complex, located at 210 Cypress Gardens Boulevard in Winter Haven.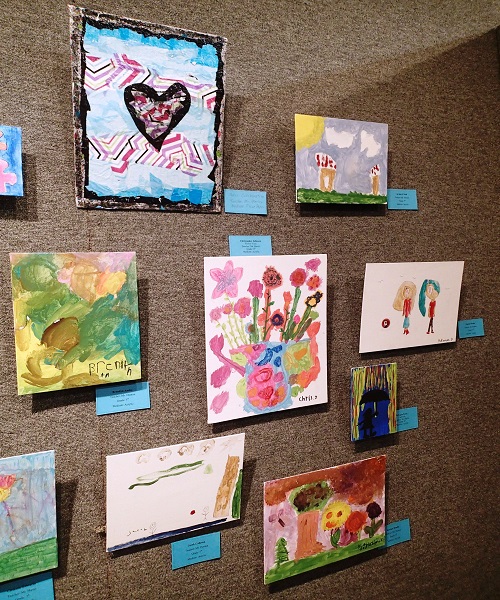 For more information about Victory Ridge Academy, visit their website at:  http://www.victoryridge.org/