Florida Polytechnic University Graduates Inaugural Class of 2018
by James Coulter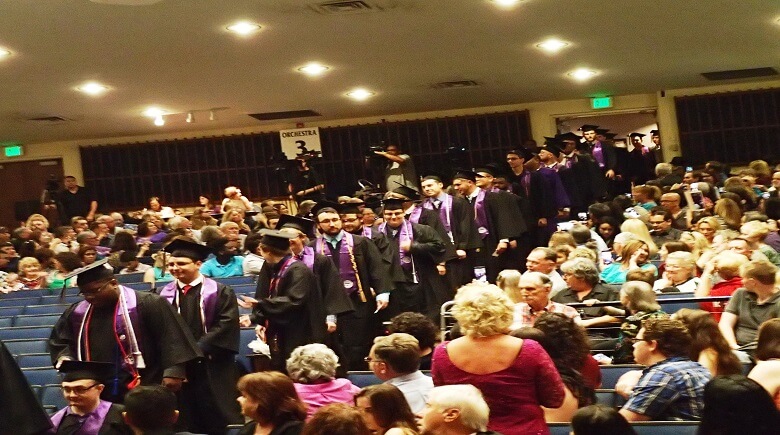 Chris Dowdy, a Lakeland resident, accomplished many things during the past four years at Florida Polytechnic University (FPU).
He participated in numerous clubs and internships, was elected as the chair of the Presidential Ambassador program, and has even received the Hayes Award from the Florida Academy of Sciences for his efforts in improving solar cell efficiency—all while balancing his work and family life as a father of three!
His hard work finally paid off when he was one of more than 200 students within the university's inaugural class to graduate on Friday, an accomplishment that he boasted about during his speech as student speaker.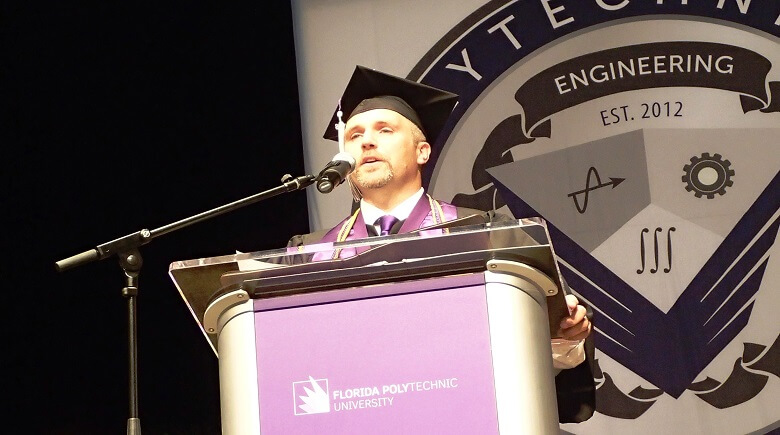 "Because we were part of the inaugural class, our school gave us an amazing opportunity to graduate with meaningful degrees with little or no debt," he said. "Unashamedly, we took that opportunity."
He and the rest of his graduating class seized that opportunity and used it to not only leave an impression on the university, but to prove to the world that they have the potential to leave the same impression on it.
"We are the ones who will show the world just how special Florida Poly is, because Poly is rising on our wings," he said. "We will answer the opportunities in front of us with creativity and passion…[and] we will meet this world and its challenges head on, and I believe we will rise stronger because of it."
Approximately 220 FPU undergraduate and graduate students were conferred their degrees during the commencement ceremony within the Youkey Theater at the RP Funding Center in Lakeland on Friday afternoon.
Founded in 2014, FPU was established as a public university with a primary focus on STEM (Science, Technology, Engineering, and Math), incorporating cutting-edge technological and scientific innovations within a hands-on teaching environment.
"Classes began in fall 2014 with hundreds of students taking a chance on a brand-new institution with a hands-on approach to teaching, and a learning environment that encourages them to think big and challenge the status quo," said Lydia Guzman, Assistant Director of Communications, within a press release.
Since then, FPU's students and staff have helped produced scientific research with the potential of creating a better future, especially within the local Polk County area.
Such research included collecting and analyzing algae from local lakes as a potential biofuel source, growing a sustainable garden with the latest agricultural innovations and technology, and developing and proposing technological initiatives to transform Winter Haven into a "smart city."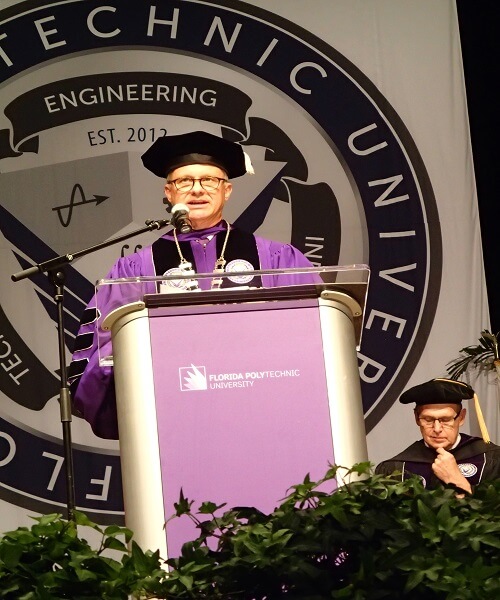 Dr. Terry Parker, FPU Provost, boasted of the graduates' many achievements during his welcome address, not only praising their efforts in proving their own potential, but also the potential of the new school.
"You have proven that you have worked hard, met the challenges, and achieve success," he said. "And I know you all will not stop after this because you all have the patience, drive, and determination to go through even greater achievements."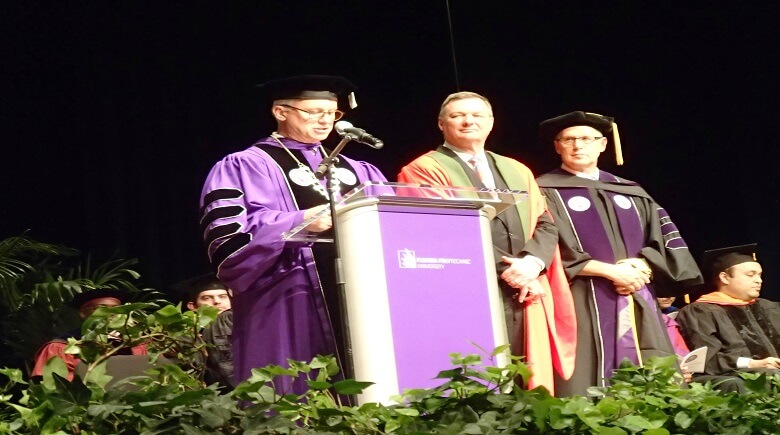 Also honored that afternoon was commencement speaker Dr. Jeffery Wadsworth, who was awarded an honorary degree by FPU President, Dr. Randy K. Avent.
During his extensive career, Dr. Wadsworth has written countless scientific papers and books and even served within both the U.S. Department of Energy and Homeland Security by overseeing several laboratories.
However, in spite of his success later in life, as a student, he often struggled in his school work, especially in chemistry and physics. After a teacher provided him a book on metallurgy, he discovered the area that he was most passionate and successful in, and it helped set his career path.
"Once I understood my subject, it became a hobby, and it was no longer a problem to learn," he said. "So never give up. Somewhere out there is the interest and passion that will make what you do fun, and when it does, success will be much easier."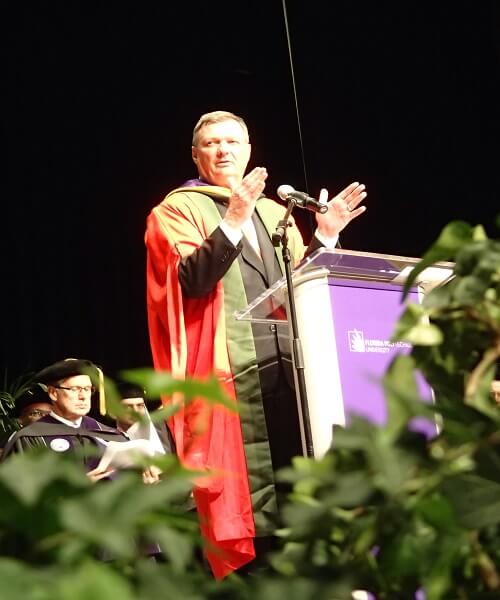 Through his commencement speech, he offered graduates three questions to ponder in order to determine their own goals after graduation: where will you choose to live and work, what will you choose to do, and how will you choose to do it?
"Figure out where to live, do something that matters, and do it with a passion," he said. "Your sources of pride will not be your acquisition or your recognitions, but rather the lives you touched, the differences you made. I hope those of you who are graduating today will take with you a vision that helped create [FPU], and that will now help create the workforce of the future."