4th Annual 863 Local FiArt Fest Colors Downtown Winter Haven
by James Coulter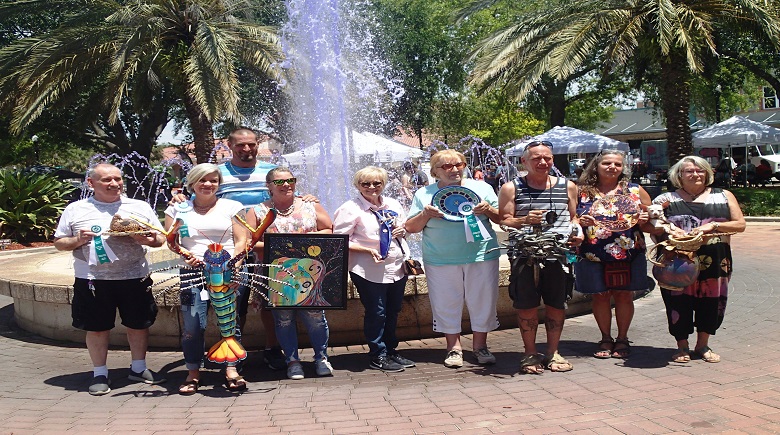 Downtown Winter Haven not only saw a lot of green on Earth Day weekend, but other colors such as red, blue, and yellow during the 4th Annual 863 Local FiArt Fest on Saturday.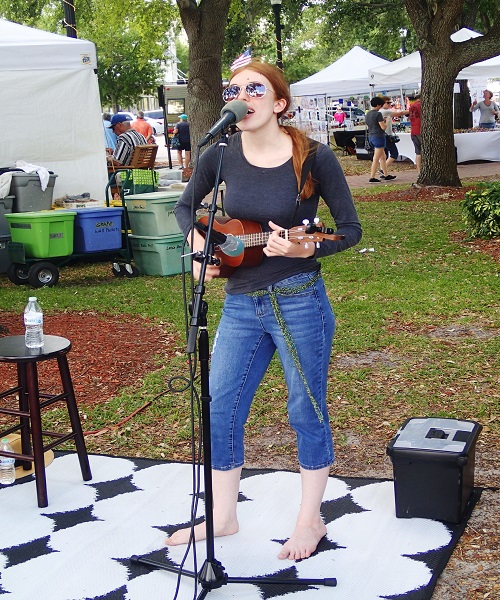 The free art festival drew in more than 61 artists from 12 different counties throughout Central Florida and into the downtown area, where they could showcase artwork ranging from paintings and sculptures to dried gourds and glass figures.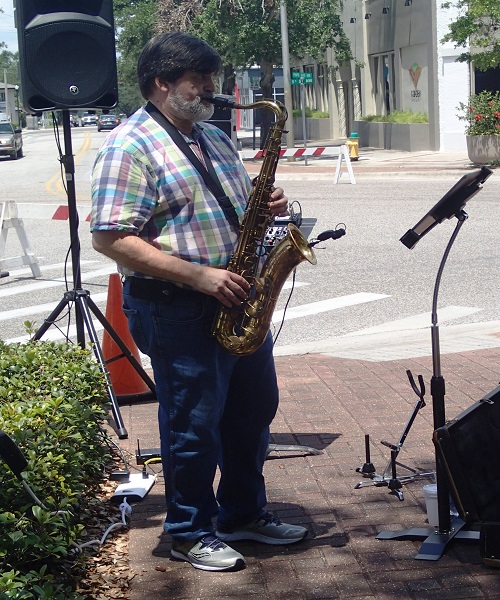 Aside from enjoying such a diverse array of artwork, attendees could also enjoy food trucks, local vendors, and live musicians on every corner of the park during the beautiful weather on Earth Day weekend.
The event has been hosted for the past four years, and each and every year sees a little more of everything, including attendees, artists, and even prizes, explained event organizer Sergio Cruz.
Cruz and his wife, Andrea, both owners of 863 Magazine, had previously taken over the event from Fiat of Winter Haven, which originally started the event more than four years ago, Cruz said.
What started as a small event with only 36 vendors has grown with a total of 87, which Cruz and his wife expect to continue to grow up to 90 or even 100 by next year.
"We love everything: the people, the atmosphere, it is [all] beautiful," Cruz said.
Aside from offering a local venue for artists within Central Florida to display their work, the event also judges and awards artwork for first, second, and third place, with several honorable mentions.
First place was awarded to Tammy Archer, a painter who specializes in watercolors, especially gouache, an opaque watercolor that creates almost a stained-glass effect.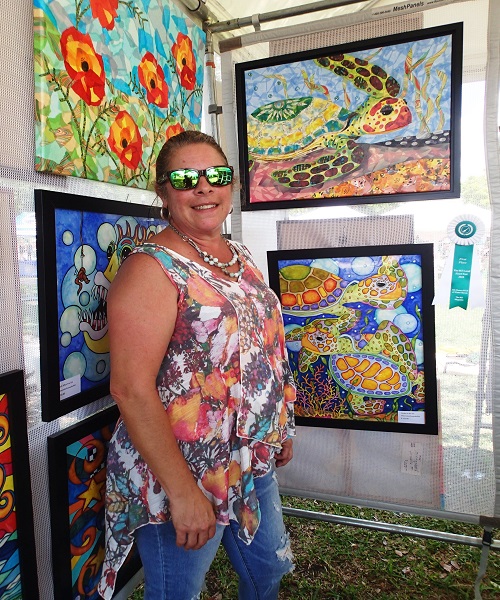 Archer loves to experiment with different techniques to give her paintings vibrant colors, including using fabric and aluminum as surfaces.
From turtles to mermaids, her biggest inspiration is the natural world, if not daily life in general, as everything in her day-to-day life inspires her.
Archer has attended many art shows across the state, and likewise has won many awards.
She has been attending the Art Fest ever since it started, and she keeps coming back every time for the good company.
"The people are great, the artists are amazing, and it's all a lot of fun," she said.
Second place was awarded to Bonnie Eastwood, an artist who has been specializing in gourd art for the past 40 years.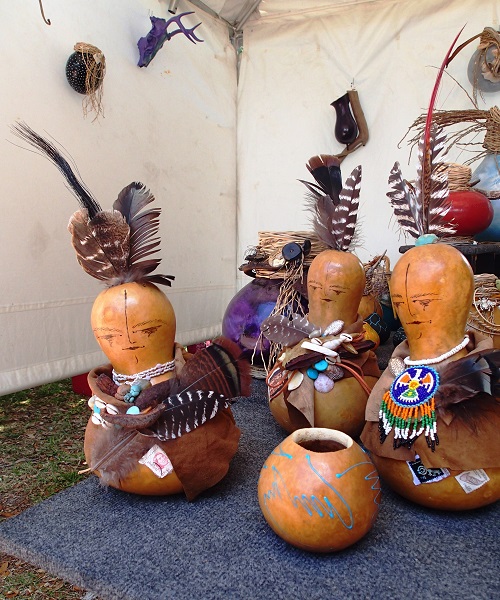 Originally a basket weaver, she discovered the craft of dried gourd art after learning about the art form in the Southwest.
Since then, she has presented her artwork at various art shows such as this, where she has won countless awards, though she much prefers to sell her art.
This year will be her last year attending the event, as she plans on buying a van to do some cross-country traveling, she said.
With more than four decades of experience, she has learned that original artists always manage to stand out, especially when judged by judges with original tastes.
"If it is an original, and it's a really wise judge, you do get an award," she said. "It is the original artists that know original work."
Third place was awarded to Jeff Mann, a sculptor who crafts unique sculptures using recycled material and found wood.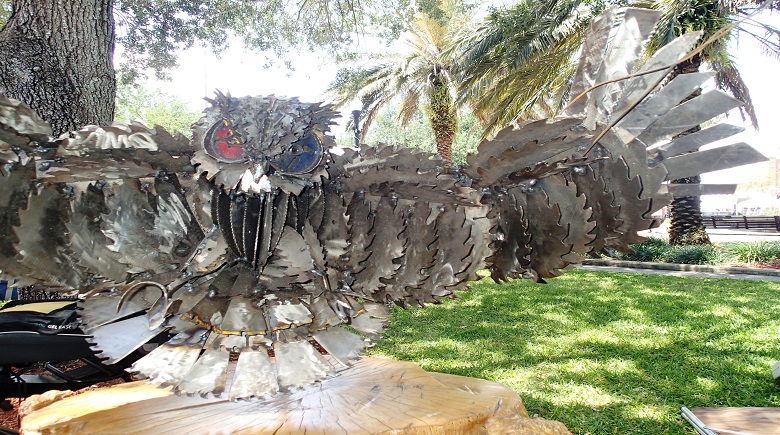 Only an ingenious artist such as himself can see scrap metal such as old buzz saw blades and view them as the wings of an owl, or stumble across metal piping and view them as the snake heads of Medusa.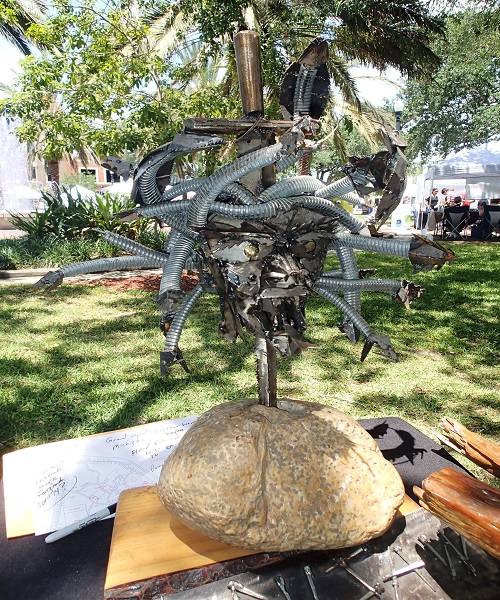 Everything he makes starts out with one such item or piece of wood, and he works himself from there on out until his latest masterpiece is complete, with the hardest part being the grinding and cutting of the metal.
This was the first time he had attended the art festival, the overall small town community atmosphere of which he appreciated the most.
"I love going to these small community events with a small park setting," he said.