Art Comes "Off The Wall" Through Dance At Polk Museum Of Art
by James Coulter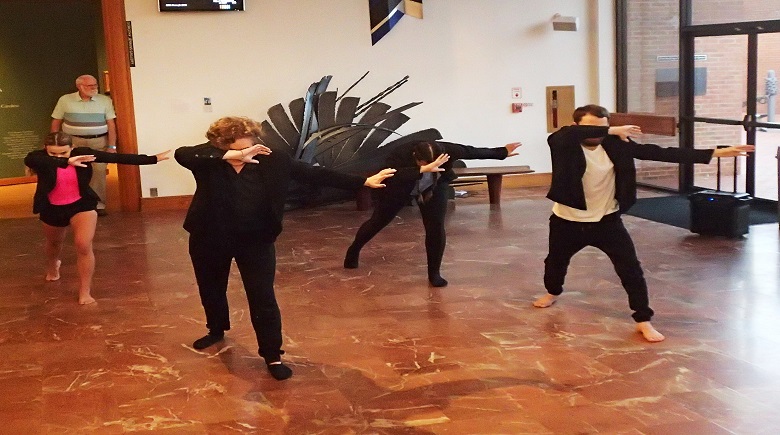 Within an art gallery with walls as red as a matador's cape hang sketches of bullfighting scenes created by the famous Spanish artist, Francisco Goya.
From amidst a small crowd perusing these sketches emerges a young man dressed in a black hoodie and white t-shirt.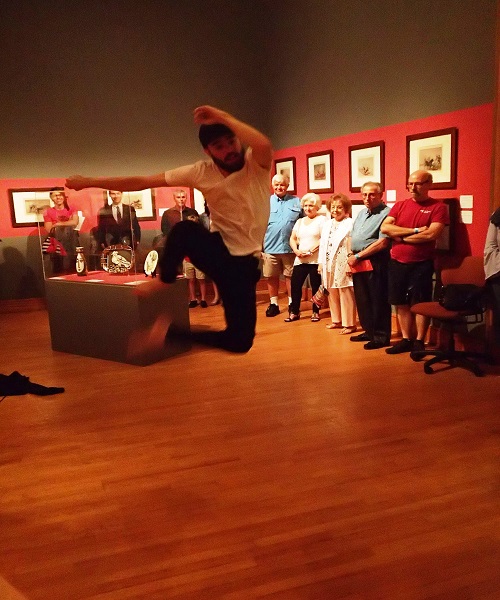 He makes his way to the center of the room, tosses aside his hoodie, and as Charles Hamilton's "Down The Line" plays in the background, he starts to dance to the rhythm.
By the middle of the song, he locks himself into a stance almost like that of a bullfighter. He thrusts his imaginary lance forward, then swings it around like a sword, all the while positioning his imaginary shield to protect from any blows.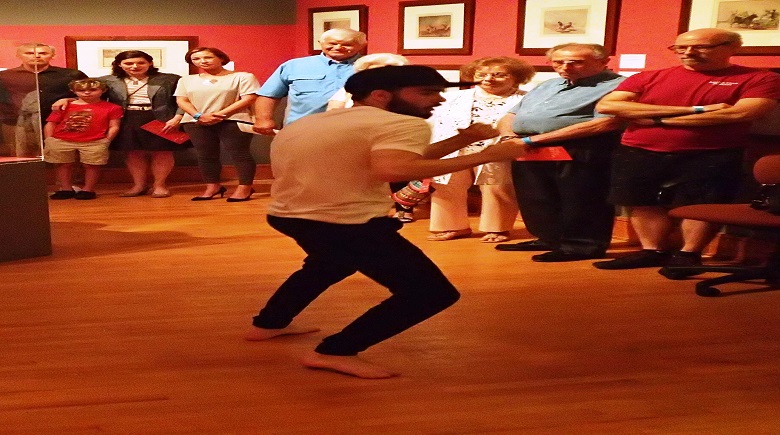 Suddenly, he collapses onto the ground as if struck down by his imaginary opponent. He struggles to get up, but collapses once again, before finding enough strength to stand back up and resume his dance routine.
This routine was inspired by Goya's famous sketch, "The Daring of Martincho in the Ring at Saragossa", an etching of a bullfighter sitting on a chair with his feet shackled together as he faces an oncoming bull with shield and lance.
While the average layperson would see a dissonance between bullfighting and hip hop, Ferdinand De Jesus, who choreographed the dance, saw a metaphor for the struggles of marginalized groups.
As the bullfighter struggles against adversity, so too have marginalized communities within America, a struggle often expressed through hip hop, De Jesus explained.
As someone who grew up during the birth of hip hop during the 1980s, De Jesus experienced first-hand how the music was mistrusted by the mainstream.
"That is pretty much reflective of the times we are in," he said. "They treat it with fear…because of negative connotations. I think culturally in society we need to shift our point of view so that it can be more open to listening to hip hop music and watching the dancers express themselves to music."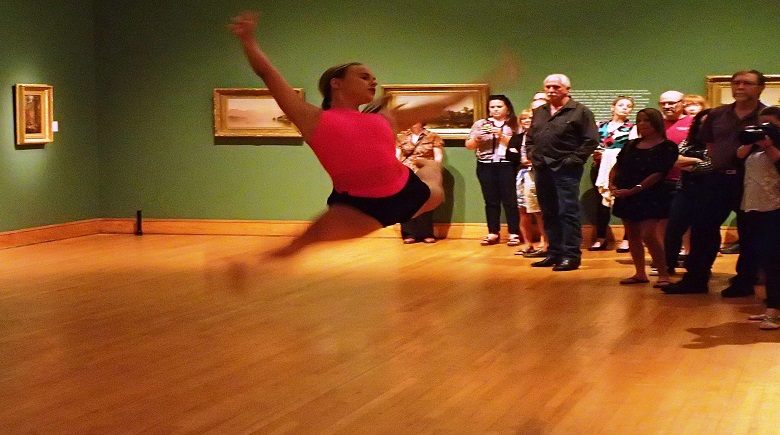 The performer for that dance, Hayden Reynaldo, a sophomore at Polk State College, recognized this metaphor and tried his best to covey it for museum patrons that evening through his dance.
"I want people to know that hip-hop is not as robust and dirty as people think it is," he said. "It is actually quite beautiful and could spread a message just as great as ballet and contemporary."
His dance was one of five performed Thursday evening at the Polk Museum of Art during "Off The Wall", an event that combines fine art with interpretive dancing.
Each of the routines were inspired by the art within the museum's two exhibits, "Painting A Nation: Landscapes from the Hudson River School," and "Masters of Spain: Goya and Picasso."
De Jesus, the artistic director and founder of the FrediDance Project Company, who performed at evening, used interpretive dance and even contemporary dance genres to bring the art to life through his own unique interpretation.
For example, with the oil painting, "The Coast of Genoa", the waves beating against the rocks reminded De Jesus of the struggles that people face daily, almost like a ship at sea trying to find the light of a lighthouse amidst a chaotic storm.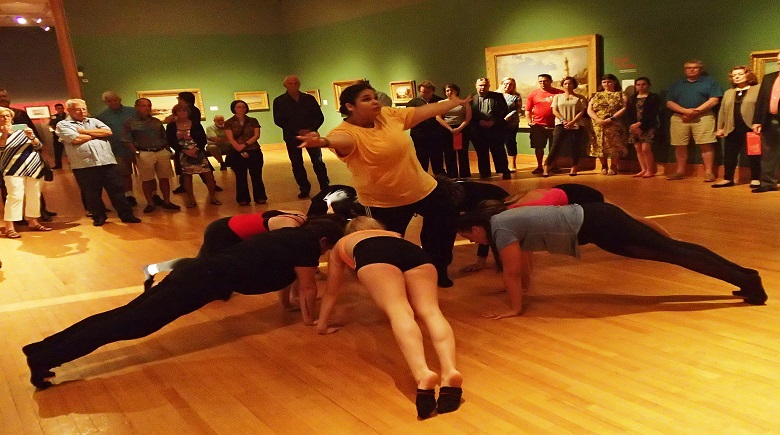 "That was so human, that many of us are struggling to find the light and we failed to realize that we are the light and we have the answers that we are looking for within ourselves," he said.
De Jesus began his dance career in New York City before moving to Florida, where he joined Florida Dance Theater in Lakeland, and later started his own dance company and workshop, the Ultimate Dance Company.
"Off The Wall" served as the first time his dance company had partnered with the museum to provide such an experience, which he had offered at many other art galleries and studios in New York.
"Off The Wall" is part of the museum's Art+ series, which showcases artwork along with other media such as music, dance, and even food to help promote an interest within the community.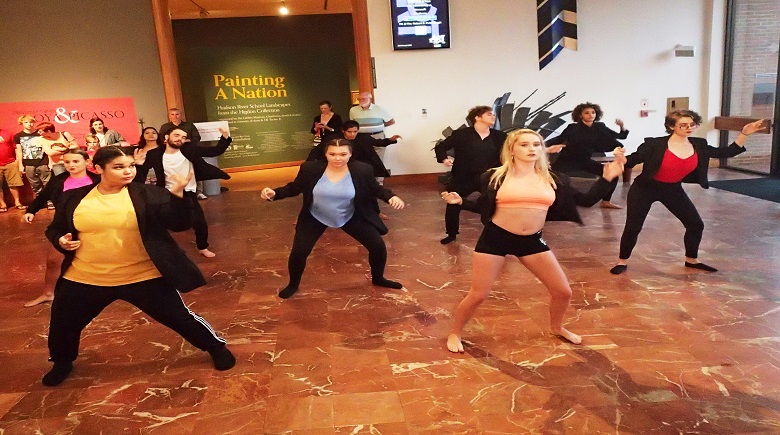 Dr. Alex Rich, the museum curator who introduced each dance routine with an explanation of the artwork that inspired it, was more than impressed with the performances and turnout, as events such as this help inspire people who would have otherwise never set foot in a museum to come visit.
"This is the kind of event that shows people art doesn't have to be so frightening, that the museum is not a scary place to come," he said. "If you are interested in dancing…in visual art…in performative art…this is space where you can do so."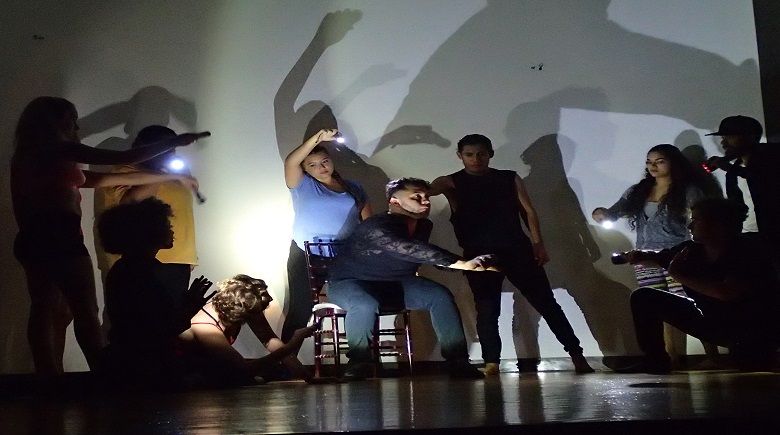 For more information about the museum and upcoming exhibits and events, visit their website at: https://polkmuseumofart.org/