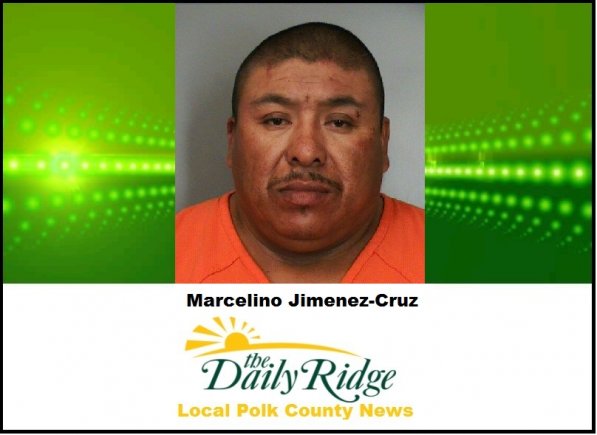 Lake Wales, Florida – On April 16, 2018, at approximately 10:03pm Lake Wales Police Officer Colt Black was on a traffic stop in the area of SR60 and 12th St. During the traffic stop, Officer black observed a subject riding a bicycle by him without a headlight. Officer Black stopped the subject and instructed him to wait until he completed his initial traffic stop. The subject, identified as Marcelino Jimenez-Cruz (DOB: 04/26/1976) of Orange Park Blvd initially complied and waited, then got back on his bicycle and fled. Officer Black gave Jimenez-Cruz multiple orders to stop in both English and Spanish however he continued to flee. The suspect began riding through the Orange Grove Shopping Center, at which time Officer Black pulled in front of him to block his path. The suspect ran into Officer Black's patrol car, then began running toward the south end of the shopping center. Officer Black deployed his department issued Taser on the Jimenez-Cruz, however it had minimal affect. The suspect charged at Officer Black and began violently striking him in the head and neck, causing him to fall to the ground. Jimenez-Cruz continued his attack by getting on top of Officer Black. At one point during the struggle, the suspect took Officer Black's portable radio and began violently striking him in the head with it. He was also able to take Officer Black's expandable baton, depriving him of a means to protect himself. Furthermore, he bit Officer Black twice, causing lacerations on both his right wrist and right thigh. Back up officers arrived within minutes to find Jimenez –Cruz still on top of Officer Black violently attacking him. The suspect continued to resist as backup officers took him into custody.
Jimenez-Cruz was transported to the Lake Wales Medical Center where he was treated and released.
Officer Black was transported to the Lake Wales Medical Center, then transferred to Lakeland Regional Medical Center with injuries to his head, arm and leg. Initially it was thought that officer Black may have had a skull fracture, but that diagnosis was changed. He is in stable condition but remains at Lakeland Regional Medical Center. Cruz was charged with the following: -Attempted 2nd degree murder of a law enforcement officer -Aggravated battery on law enforcement officer -Depriving an officer of means of communication/weapon (2 counts) -Criminal Mischief (2 counts) -Violation of Probation -Resisting an officer without violence (2 counts) -Resist an officer with violence –
Additionally, an ICE Detainer was requested because Jimenez-Cruz is not a legal United States Citizen.
Cruz is currently on probation for resisting an officer with violence. His past arrests include the following:
April 2017 -Battery on a Law Enforcement Officer (2 counts) -Resist officer without violence -Battery, Domestic Violence-Kidnapping -False imprisonment -Touch/strike or cause harm to a police dog
October 2016 -No valid driver's license May 2016 -Driving while license suspended September 2012 -Driving while license suspended
August 2012 -Driving while license suspended May 2012 -DUI-Driving with expired driver's license more than 6 months
June 2010 -Resist officer without violence -Retaliate against victim without injury May 2010 -Battery