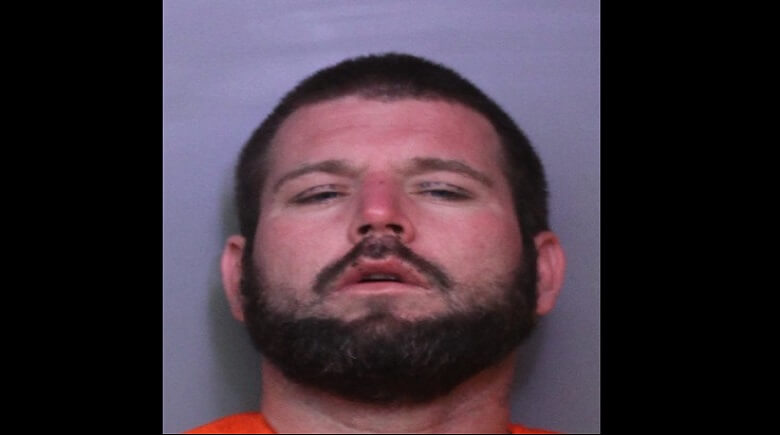 PCSO Release:
On Thursday, March 8, 2018, PCSO deputies arrested 34-year-old Eddie Steadman of Lakeland for possession of methamphetamine (F3), fleeing or attempting to elude (F3), resisting arrest without violence (M1), and possession of drug paraphernalia (M1). It all started from what would have been a simple seatbelt violation.
According to the affidavit, around 3:00 p.m., a deputy observed a driver of an orange Ford Focus not wearing his seatbelt and attempted to conduct a traffic stop at Ernest Smith Boulevard and Highway 98 in Bartow. Steadman began to pull his car over, and then accelerated east on Ernest Smith Boulevard.
A pursuit was not initiated and deputies sent out a BOLO (be on the lookout) to other local agencies. Bartow Police Department later notified PCSO that a vehicle matching the description from the BOLO, had just been involved in a car crash near Highway 17 and Ernest Smith Boulevard in Bartow.
Witnesses told deputies they saw a man matching the description of the driver flee on foot and into the woods after the car crash. A perimeter was set-up; PCSO aviation and K9 Units also responded to the scene. Steadman was found just north of the Krazy Kooter's Lounge located at 1725 U.S. Highway 17 in Bartow.
Deputies discovered that Steadman had a warrant, coincidentally for aggravated fleeing to elude.
During a search of the vehicle deputies found methamphetamine and a smoking pipe. Steadman was transported to Bartow Medical Center for shortness of breath. He was treated and released for minor injuries from the car crash and was transported to the Polk County Jail.
"If you look at Steadman's criminal history, he has tried to flee from law enforcement before. You would think he would have learned his lesson by now. If it didn't work then, it certainly wasn't going to work this time." Grady Judd, Sheriff
Eddie Steadman has a previous criminal history. He has been to state prison 3 times, has 13 previous felony and 18 previous misdemeanor charges to include the following: VOP, Burglary, Aggravated flee to elude, reckless driving, grand theft of a motor vehicle, trespassing, burglary, petit theft, contempt, possession of meth and drug paraphernalia, criminal mischief, giving false ID to LEO, battery, DWLSR, and selling dangerous drugs.