"Light Up The Night" Lights Up Downtown Winter Haven For Sixth Year
by James Coulter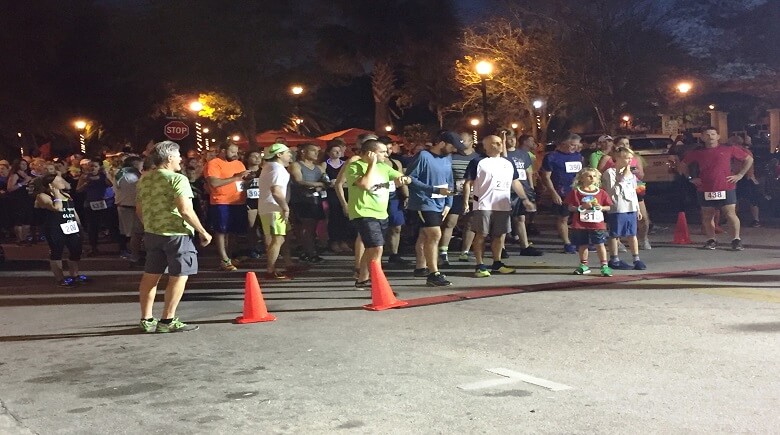 The members of the Lakeland Runners Club run for different reasons. Some want to get in shape. Others live for the endorphin rush.
Either way, it is this love of running that inspires them to participate in races such as the Light Up The Night 5K in Winter Haven on Friday.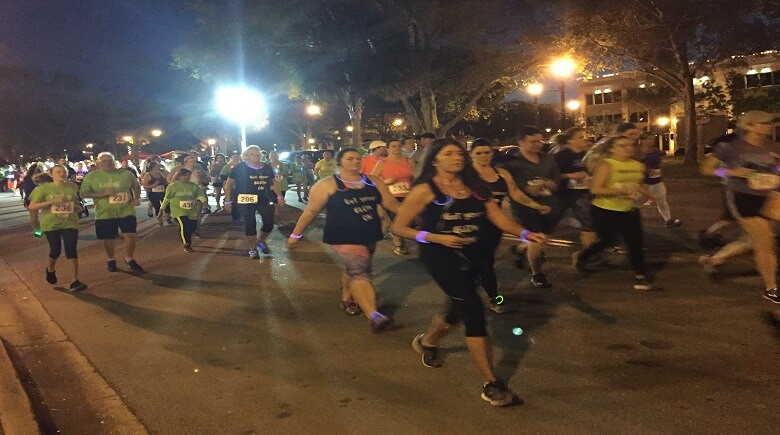 During that evening's race, Runners Club members such as Diane Wells, Betsy Stroup, and Sonya Caron joined more than 300 other runners during an evening run through Downtown Winter Haven and around Lake Mirror.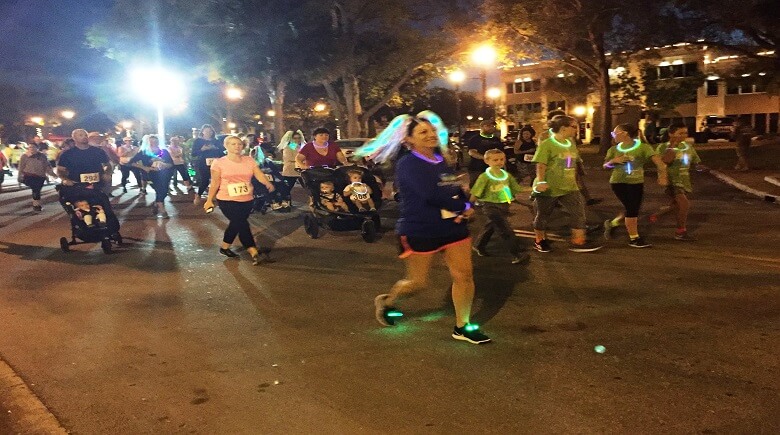 All three participating members that evening have raced in ten other races within the past year, with this being their first time racing during the annual Winter Haven 5K.
While each of the three had their own reason for racing, the one thing they looked forward to the most that evening was refreshing themselves with beer during the after party at Grove Roots.
For them, nothing else better caps off such an adrenaline-charged evening of running and sweating.
"It's a runners high, just the exhilaration and the fun," explained Wells.
For the past six years, Light Up The Night has lived up to its name, as participants run, jog, or simply walk through Downtown Winter Haven, with many of the racers dressed in glow-in-the-dark apparel such as glow sticks.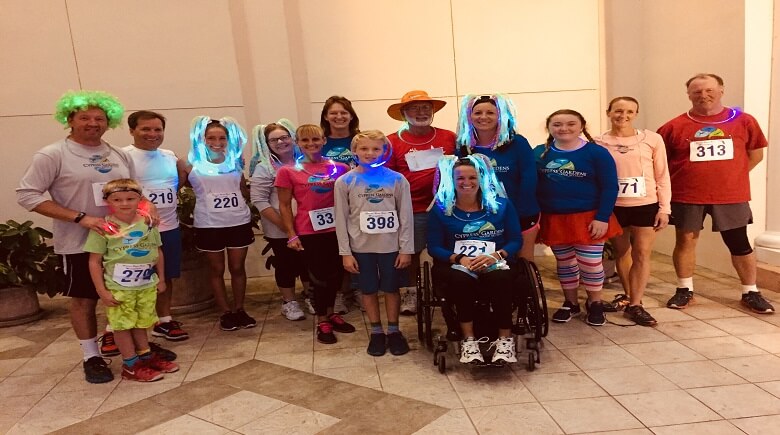 As a family-friendly event, the race is most unique in that it is open to racers of all skill levels, whether they are professional runners or simply family members wishing to enjoy an evening stroll together.
The nighttime run is the annual fundraiser for the Winter Haven Junior Leauge, as all the net proceeds from it benefits their different projects such as their Mobile Food Pantry and Stork Pile Baskets.
For the second year, this race through town ended at Grove Roots, where racers and other attendees could relax during an after party with beverages, food trucks, and live music.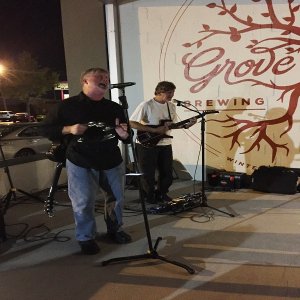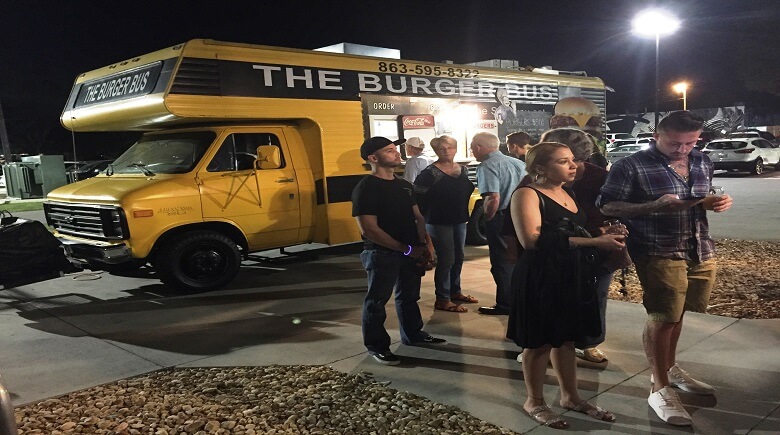 The event not only allows people to support local causes, but also to support local businesses, explained Anna Bostick, President of the Junior Leauge.
"[Light Up The Night] got started because we were looking for a new fundraiser and looking for something that was not offered in our community," she explained. "We already have 5Ks, but we did not have one at night, so we thought this was a great opportunity."
This year's race drew in approximately 350 runners, with 300 having registered ahead of time. While not more or less than previous years, the numbers nevertheless show that the event has been growing interest in recent years.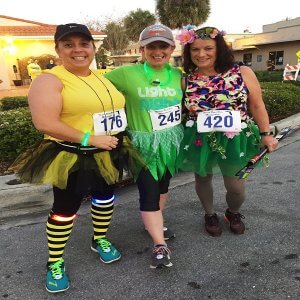 "Our overall expectations is to provide a great experience for all our participants and to raise awareness for our leauge and all of our projects," Bostick said. "It provides a great opportunity to participate within the community and for them to see the way we raise funds to support our local [community]."
For many runners, like Jean Voisard, President of the Cypress Gardens Swim Team, this year was one of countless many that they have been participating in, with the overall camaraderie bringing them back each and every year.
Voisard and her members decided to get involved ever since the race first started many years ago, and they usually dress up in their glowing best with costumes from their Halloween nighttime shows.
"It is a great event with a lot of fun people out here," she said. "We love working together as a team and doing something other than ski."
For others like Max Forni, owner of Forni Dental in Lake Wales, this year was their very first one participating, with his own team of five racing in their year's event for the very first time.
While not racing himself, Forni wanted to find a way to give back to his local community, so he decided to sponsor this year's event and have several of his staff members participate in that evening's race as the team "Floss Like A Boss."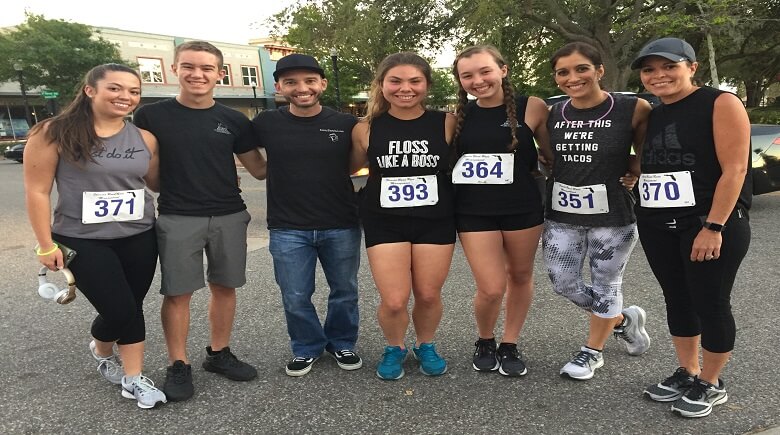 "We wanted to do something for the community," he said. "We wanted to run and spend time with our friends…so we came out and it is a great group."