First Chain of Lakes EggFest Hosted In Winter Haven
by James Coulter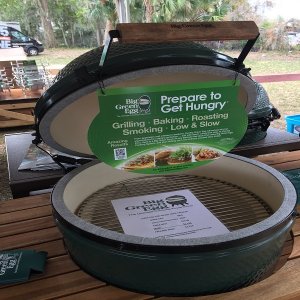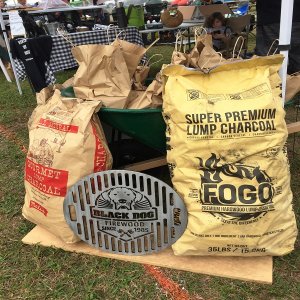 When Garry Yanke learned that there was an EggFest being hosted for the first time in Winter Haven, he flew in all the way from California to attend.
As a close friend of BJ Mannix, owner of Mannix Pools and Grills, and the person hosting the grilling competition, Yanke was more than willing to fly in to help put on the event.
"He said that he was hosting an EggFest and would love me to be out here," Yanke said. "I told him I would be out there right away."
He and his team, including the two owners of AlbuKirky Seasonings, prepared three courses at their booth, including grilled shrimp with green chili seasoning on a bed of homemade cole slaw and a green seasoning jelly on top of a toasted baguette.
With this being the inaugural EggFest in Winter Haven, Yanke had expected 150 attendees, but saw more than 400, he explained.
Having attended several other EggFests, and even winning several competitions, he enjoyed attending this one the most with the good food, greater music, and overall ideal weather.
"Overall one of the best EggFests I have been to," he said.
The Chain of Lakes EggFest was hosted last Saturday by Mannix Pool and Grills and sponsored by Somewhere Sports Bar and Grill.
The grilling competition was hosted at the Boys and Girls Club Citrus Center in Winter Haven, with proceeds going towards the Boys and Girls Club and Girls, Inc.
As a Green Egg grill dealer who had visited similar events across the state and country, BJ Mannix wanted to start his own EggFest in his community.
"I love being around people, and the support that these people have had for me and my staff is amazing," he said.
Despite being the very first event, the EggFest went without a hitch, as more people attended the event than previously anticipated, with many of them arriving from across the country to attend, Mannix explained.
"Next year, we want to make this grow, we want to be able to donate more and more each year," Mannix said. "Other than that, I appreciate every single person that is involved."
More than 19 teams manned a total of 40 Green Egg grills, thus helping to promote the grill type, and serving a variety of food ranging from pulled pork barbecue to pizza and enchiladas.
Some vendors arrived from out of state, like Bill Kist and his Pirates Pie team, who drove over 15 hours from Ohio.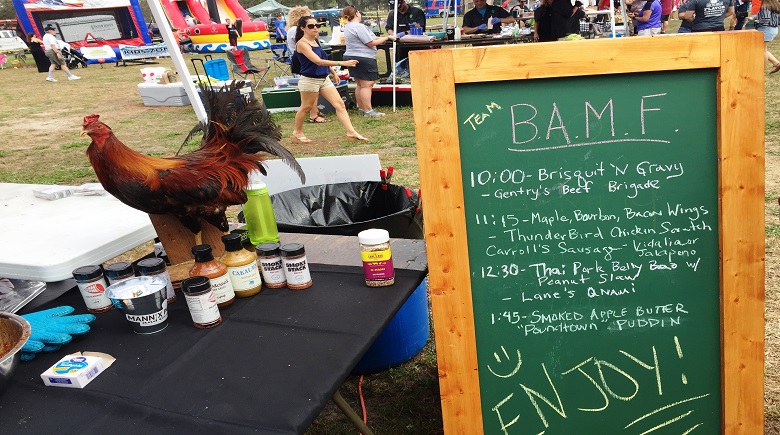 He and his team served up pizzas with specialty toppings such as pulled chicken marinated in Cincinnati-style chili and served with cream cheese and shredded Mexican cheese.
With their award-winning food, they had previously won a Green Egg grill at a previous EggFest, as well as the people's choice award at Porkopolis in Ohio.
"This is our third EggFest," he said. "We love the big green eggs, the camaraderie, the grills, and we enjoy cooking."
Many other vendors have competed and attended other similar competitions. Rhonda Hollis, whose brother runs the competition team Nibble Me This, started attending EggFests since last year.
Their team that day served unique entrees ranging from Mexican-style street corn to "drunken" stuffed with pork, cheese, and mustard and served like Cuban sandwiches.
Her brother has been competing for several years, and she began competing with them for the past two, having attended and won several competitions in Tennessee and North Carolina.
At this particular event, Hollis has been able to connect with many friends she met on Facebook and other social media outlets, many of them from across the state and even the country.
"This gives us a reason to get together as a reunion with good friends for a good cause," she said. "Hope this is an annual thing."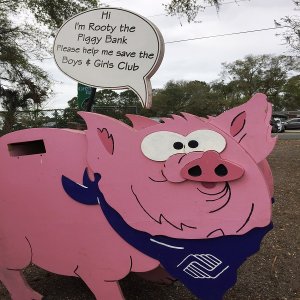 For many other vendors, this was their very first time competing and allowed them the opportunity to start sharing their food.
Justin Bishop and his friends formed Team B.A.M.F. (Better At Making Food), as they have often prepared their own food for their own personal get together.
That day allowed them to share some of their personal recipes, including "briskets and gravy", jalapeno and cheddar sausage with maple bourbon, to Korean pork belly tacos with peanut sauce.
Even though that was their very first competition, they managed to have their review bucket filled with plenty of good reviews from attendees.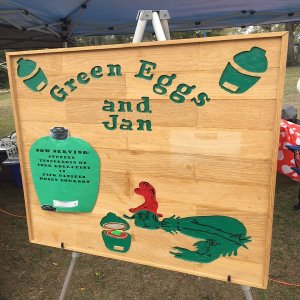 "We are good friends with BJ and we will do anything for him and to support him," she said. "We were all in to helping however we can."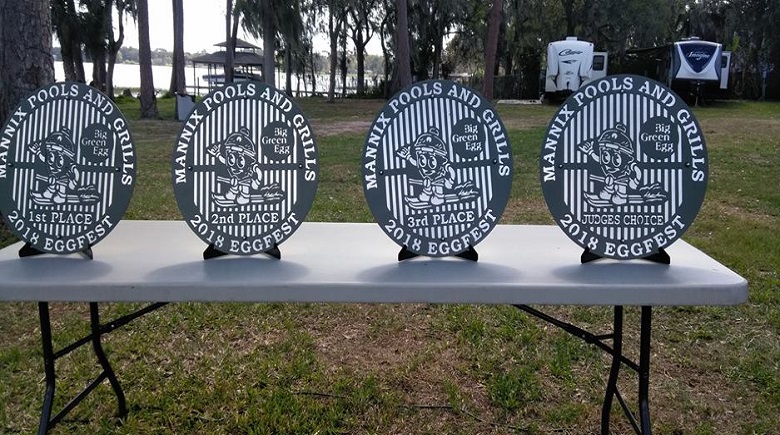 Congratulations to Team NibbleMeThis for winning the inaugural Chain of Lakes Eggfest!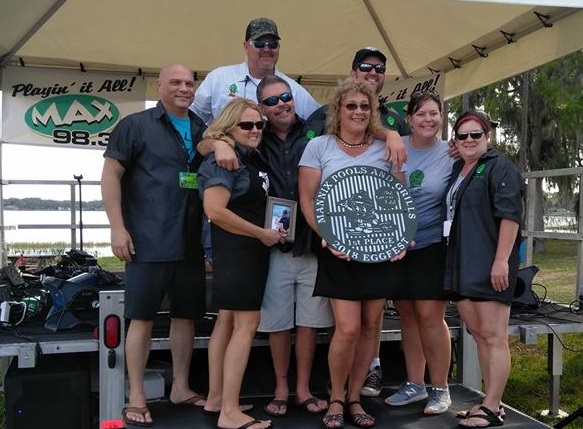 Team BAMF 2nd place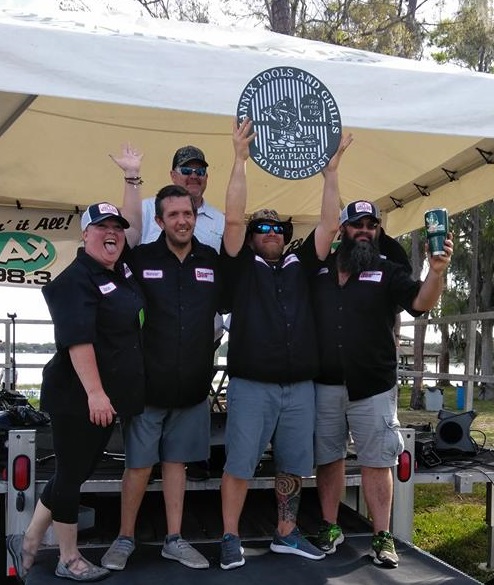 Team Pork's Peak in 3rd Place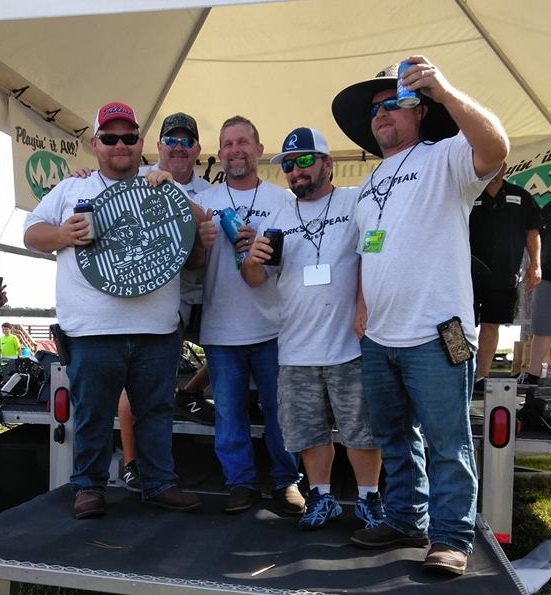 Judges Choice winner was Team Pirate Pies all the way from Cincinnati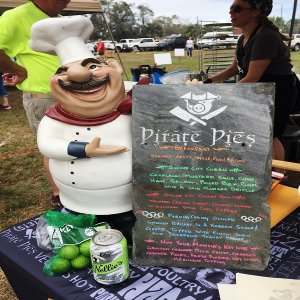 For a list of winners from this year's competition, along with more information on future events, visit their website at: https://chainoflakeseggfest.com/