Local Middle And High School Students Win Young Artists Show
by James Coulter
Christy Hemenway, Executive Art Director of the Ridge Art Association (RAA), has been overseeing art shows for young artists for 16 years, and this year proved to be the best one yet.
Every year, she can never quite anticipate the caliber of the artwork of the young artists involved, so this year really impressed her with the overall quality and selection, she explained.
"It is amazing when you look around at the artwork and the level, it is taking the next step up to become a really good cohesive show," she said.
Last Saturday, she was pleased to announce the winners of this year's Young Artists Show during the reception at the RAA in Winter Haven, which is currently showcasing artwork from students in schools across the county.
This year's winners were as follows:
High School
Senior Portfolio Winner: Miranda Gallegos, 18 (Lake Region)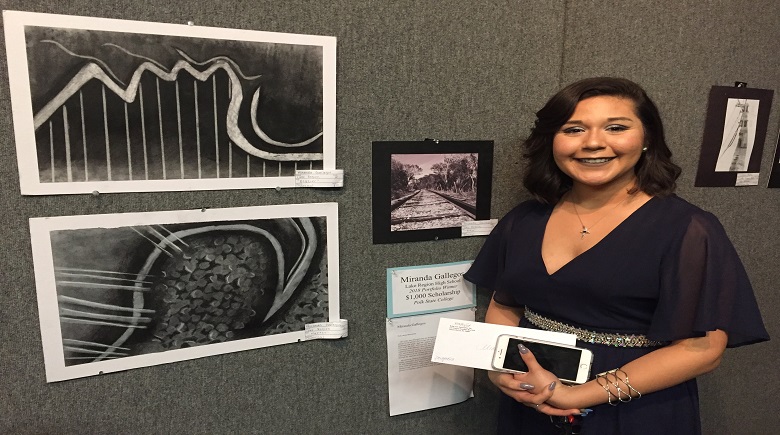 As a "free-flowing" artist, Miranda prefers to allow her at to take her wherever it leads rather than plan it out.
"I feel like I do better in that sense," she explained. "I start with an idea and go with that…[I] just keep pushing forward with the art piece, even if I don't like it."
As someone who originally had plans to enter a military background, she did not expect any of her work to be rewarded.
So she could hardly believe that her art allowed her to win a scholarship, and now she's "going with the flow" with a changing career path.
"My art teacher had to show me the e-mail because she told me and I did not believe her," she said. "This has opened my eyes and I would love to be an art teacher."
2 Class Scholarship: Jorge Zambrano, 17 (Haines City)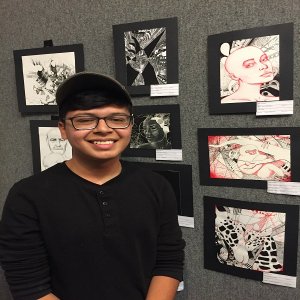 Most of Jorge's artwork reflects a more abstract outlook with thin, detailed lines, almost like the wireframes of a computer-generated image.
His themes prove equally as abstract, often derived through group discussion.
"We would come up with the [idea] at the table, which is a fun way to start a project," he said.
While coming up with the different sketches were easy enough, finishing them on time, with many of his projects taking less than a week and a half, was a bit more challenging.
Such a challenge proved rewarding, as it allowed him to win his scholarship.
"I am really happy and excited," he said.
2D Work 1st Place: Amy Raymer, 18 (Lake Gibson)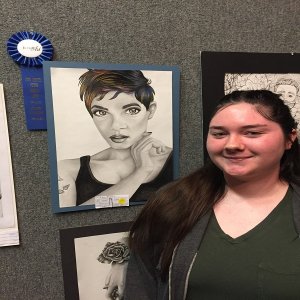 For Amy, inspiration comes to her as easily as flipping through a magazine or skimming through an internet image search.
"If I see something that I like, then I draw it," she said.
Her award-winning portrait was based on a photo she came across in a magazine. She liked how the subject in the photo looked, and so she sketched it herself.
The hardest part for her was keeping the eyes the same size and at the same level, ensuring than one was no bigger or higher than the other.
Though she loves to sketch a lot, rarely has she ever been rewarded for it, making her recent award most rewarding.
1st Place (Pottery and Sculpture): Tiahna Braddy, 17 (LRHS)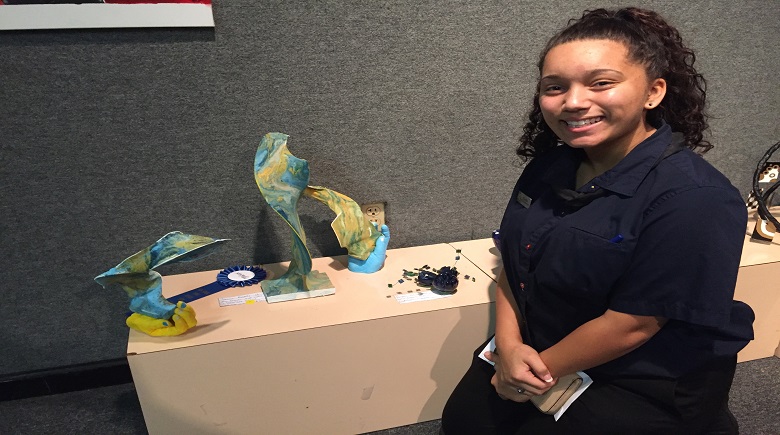 As someone who's environmentally-conscious, Tiahna takes inspiration from Mother Earth, especially with her award-winning sculpture of two hands grasping remnants of the world.
"We are the ones who shape the earth, so we are the ones holding the earth right there," she explained.
Her biggest challenge with these pieces were bending the wires underneath in the pattern she wanted.
With this being her very first art show she has entered and won, she finds herself inspired to continue entering to see how far she can go from here on out.
"I never submitted anything to an art show, so knowing that I won first place is very rewarding," she said.
Award of Excellence: Logan Hart, 17 (Lake Region)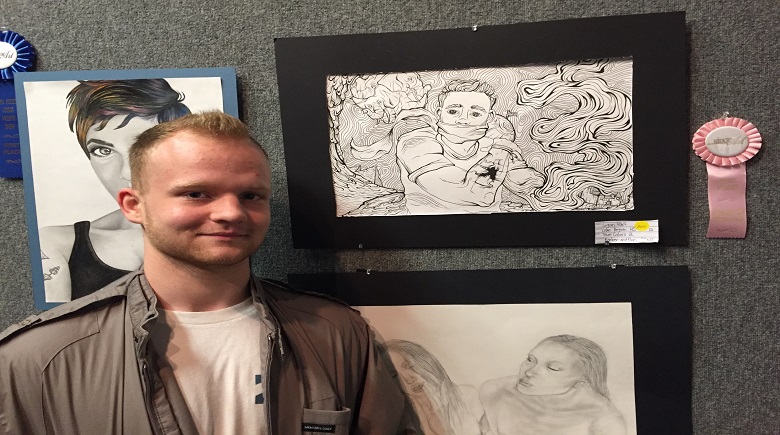 Inspired by comic books, especially with the rise of superhero blockbusters, Logan sketched himself as the hero of his own story.
With him front and center in the frame, he stands between his past and future, represented by pyramids and a castle respectively.
"I just did what I thought would look cool through my eyes," he explained.
Though he used to created many art pieces such as this, now he gravitates towards a more "cartoony" art style.
"I am glad people are seeing my art in a different way," he said. "I have become more experienced in my time, [and] hope to get better."
Award of Excellence: Olivia Stone, 18 (Lake Region)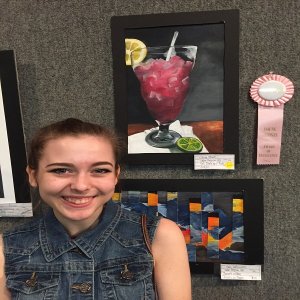 Upon looking at her portrait of a glass of pink lemonade, others can be forgiven if they become thirsty doing so.
Olivia really wanted to contrast the bright pink colors with the shading and reflection of the glass, which proved to be the most difficult part.
All her hard work eventually paid off with her piece receiving an honorable mention with an award of excellence.
"It is my first award, so I was very nervous and really excited," she said.
Honorable Mention: Katie Miner, 18 (All Saints Academy)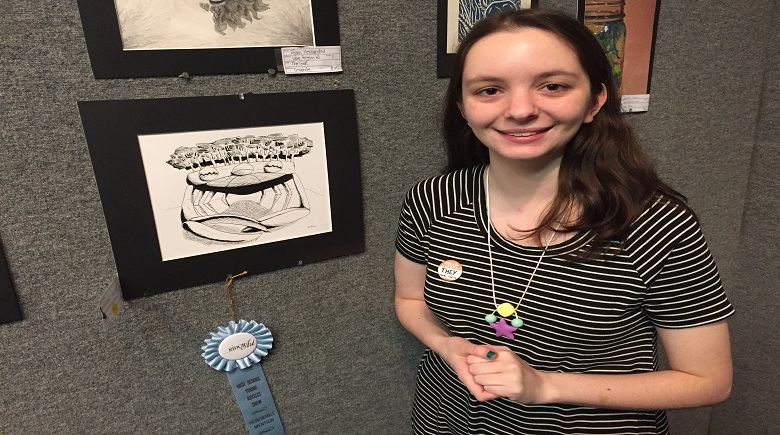 When Katie was assigned to create a portrait combining three animals, she wanted to do something other than fluffy animals.
"Why not make something that reminds me of an eldritch horror," she said.
The result was a chimera with the body of a crab, beak of an octopus, and the head of coral.
Sketching the creature was easy enough, though shading it was a different story.
"The main [difference] between an amateur and professional was shading, and I really wanted to shade it," she said.
She completed her assignment while attending summer classes at Ringling College of Art and Design, where she has since been accepted to attend later this year.
Middle School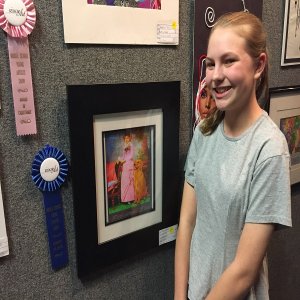 1st Place: Abbey Johnson, 13 (Union Academy)
Most people would not assume much about her painting of a dog and its owner.
However, they'll soon double take upon realizing the owner shares a lot in common with her pet.
When Abbey drew the dog ears on the owner, she wanted to make it look as realistic as possible as to elicit such a response.
"I like making different pieces that make them wonder what is going on," she said.
She plans on creating even more artwork like that in the future, as this being her first win has inspired her to compete more often.
3rd Place: Nick Burgess, 14 (Lakeland Highland)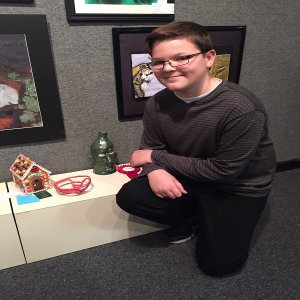 Having previously won the art show twice before, Nick only expected to win once again this year.
This time, he created two sculptures: one of a jug inspired by Southern African culture; another of a gingerbread house.
The house proved most complicated, what with him trying to provide enough detail to the fragile and quick-drying art piece.
"I had to make it fast," he said.
Award of Excellence: Reagan Wilson, 13 (All Saints Academy)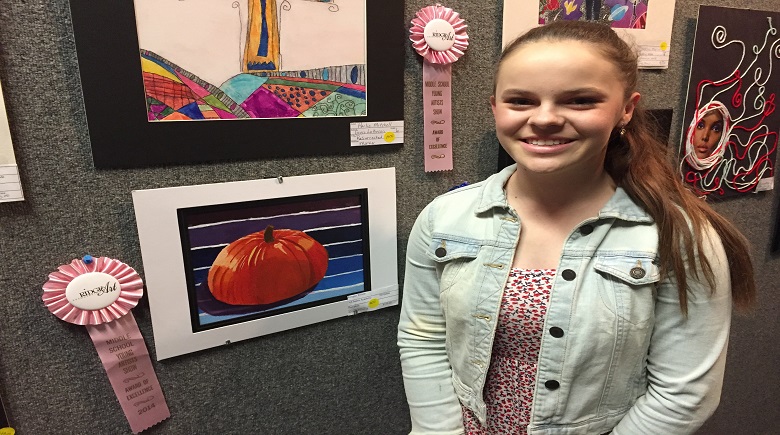 When her class was assigned to paint fruits and vegetables, Reagan was surprised no one wanted to paint a pumpkin.
So she decided to take up the task herself, though it was far from easy.
Most difficult was getting the colors and shading exactly right, especially since her assignment focused on highlights and low lights.
Her hard work has since paid off now that she won her award of excellence.
"It is cool because I never won an award before," she said.
Other Winners
High School
2 Class Scholarships:
Luisa Moria (Mulberry)
Victor Ross Perichetti (Aubundale)
Jayson Ruiz (Haines City)
Glenn Kelley (Lake Region)
Andrew Bastian Award:
Marissa Rivers (Lake Region)
2D Work:
2nd Place: Melissa Galves (Mulberry)
3rd Place: Julia Neves (Haines City IB)
Pottery/Sculpture:
2nd Place: Brayan Angles (Lake Region)
3rd Place: Elizabeth Martinez (Lake Region)
Awards of Excellence:
Laney Smith (Winter Haven Christian)
Abigail Hernandez (Lake Region)
Honorable Mention:
Lucy Gravitt (MHS)
Cristal Figueroa (Mulberry)
Emily Julius (George Jenkins)
Middle School:
2nd Place: Sydney Hall (Mulberry)
Award of Excellence:
Harlie Mitchell (Grace Lutheren)
Karol Ayala (Lakeland Highlands)
Rachel Dunn (Stambaugh)
Honorable Mention:
Aidan Hernendez (Jewett Middle)
Makayla Stubbs (Winter Haven Christian)
Dayhanna Garcia (Lakeland)
Madeline Espina (Mulberry)