Victory Ridge Academy Hosts Parent Agency Night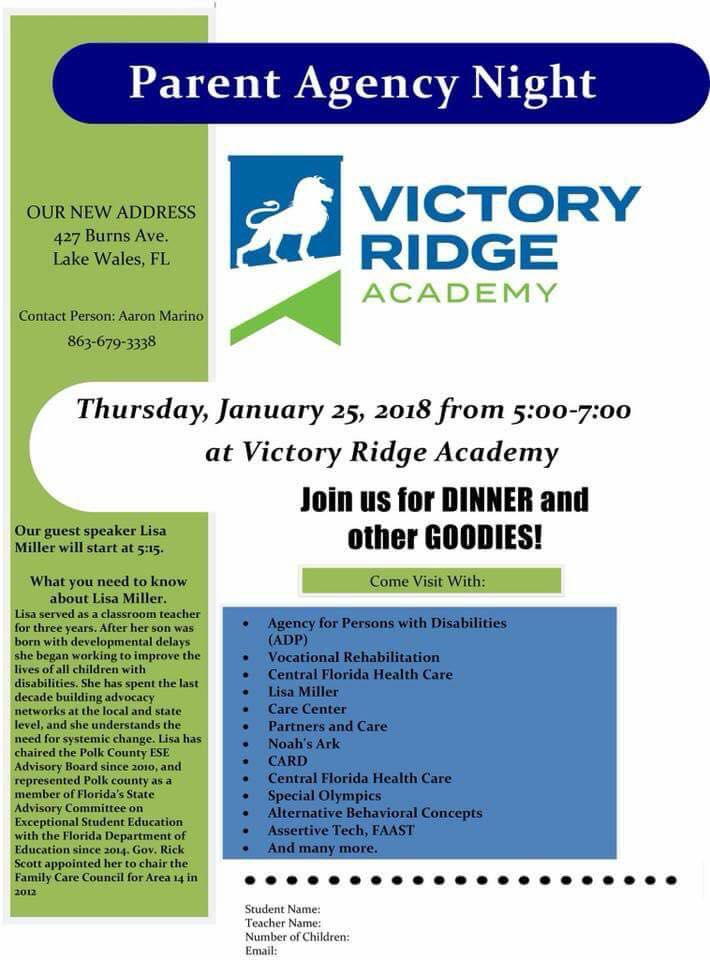 Lake Wales, Florida – On Thursday, January 25th, Victory Ridge Academy (VRA) will be hosting a Parent Agency Night in the school's Therapy Building where parents are invited to visit with local organizations offering resources to the Special Needs Community.
Lisa Miller, Chair of the Polk ESE Advisory Council and VRA's special guest speaker, will begin at 5:15 p.m. Also attending our event will be the Agency for Persons with Disabilities, Vocational Rehabilitation, Central Florida Health Care, Lake Wales Care Center, Partners and Care, Noah's Ark, CARD, Special Olympics, Alternative Behavioral Concepts, Assertive Tech, FAAST, and many more.
Please join us from 5-7 p.m. for dinner and the opportunity to learn more about the local resources available to your children with special needs. Everyone is welcome, there is no cost.
Victory Ridge Academy is located at 427 Burns Avenue, Lake Wales, FL 33853.
Victory Ridge Academy is a Title 1, 501 (c)(3) non-profit public charter school that exclusively serves children with special needs. Victory Ridge Academy is based on the belief of the administration, staff and Board of Trustees that early intervention is crucial to helping children and young adults with special needs to cultivate healthy lifestyles and grow into well-adjusted persons. It is the school's belief that students need a safe, positive and nurturing learning environment to develop communication skills, social skills, academic and technical skills in order to build their self-confidence and become productive members of society.
If you have any questions regarding VRA's Parent Agency Night, please contact Aaron Marino at (863) 679-3338.
For more information about Victory Ridge Academy, please visit the Academy's website at www.victoryridge.org