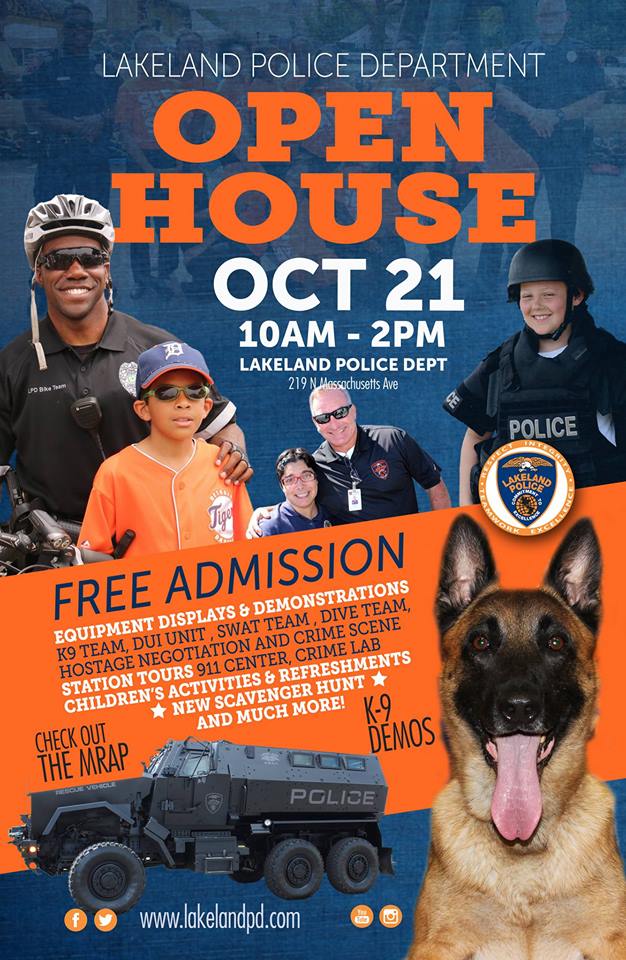 LAKELAND, FL (October 18, 2017) The Lakeland Police Department will host their 13th Annual Open House on Saturday, October 21st from 10:00 a.m. – 2:00 p.m. This free event gives citizens the opportunity to go behind the scenes with Lakeland's finest. This year's event is focused on "See Something. Say Something".
During this fun-filled family day, you can meet members of the SWAT team, take a peek inside LakelandPD's mobile command center, see the armored rescue vehicle up close and check out the k-9 team in action! There will be tours of the police station beginning at 10:30 a.m. and running until 1:30 p.m. These tours include the Crime Lab, Communications Center and the Emergency Operations Center. Plenty of children's activities, live entertainment and free hot dogs make for a guaranteed good time!
Also, those who complete the scavenger hunt will receive a free See Something, Say Something LakelandPD Hat! (while supplies last)
So gather your family, friends and neighbors and come out and enjoy a day with the Lakeland Police Department.
Follow the event page at http://tinyurl.com/ydfztmkq for up-to-date informatio