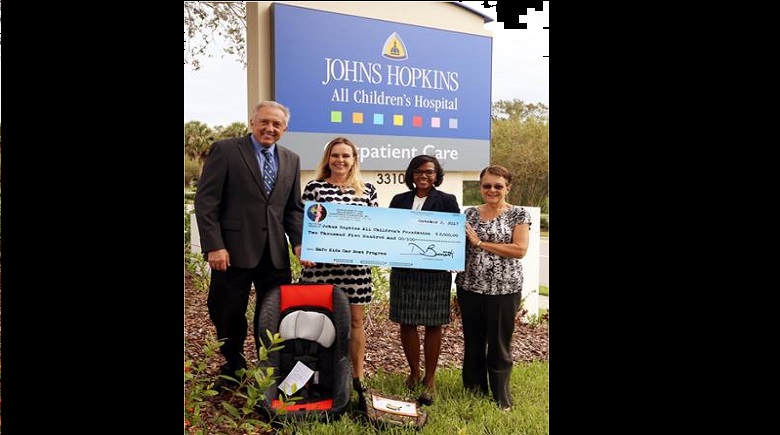 LAKELAND, FL, October 2, 2017 – On Monday, October 2, 2017, at the Johns Hopkins All Children's Outpatient Care Center located at Burnetti Law donated $2,500 to Johns Hopkins All Children's Hospital's Safe Kids Car Seat Program.  The hospital's program provides reduced cost car seats for families who are unable to purchase seats at regular cost.  The law firm's gift will defer the remaining cost for 125 families in need.
Burnetti said, "In my line of work, I see a lot of injuries, and I know how important the correct car seat can be.  It can literally mean the difference between the life and death of a child.  I'm honored to be in a position where I can help families in need."
(L-R) Attorney Dean Burnetti presents a check to Petra Vybiralova, Anysia McDowall, and Sue Snover of Johns Hopkins All Children's Hospital
About Dean Burnetti Law:
Dean Burnetti Law is a Personal Injury and Workers' Compensation law firm.  With more than 30 years' experience, Dean Burnetti is one of only four attorneys in the State of Florida who is double Board Certified by the Florida Bar in the areas of Worker's Compensation and Civil Trial Law.  The firm has two offices, one in Lakeland and one in Brandon.  For more information, please contact 863-BURNETTILAW or 813-BURNETTILAW, or visit www.BurnettiLaw.com.