Winter Haven Police Arrest U.S.M.C. Recruiter For Having Sex With A Minor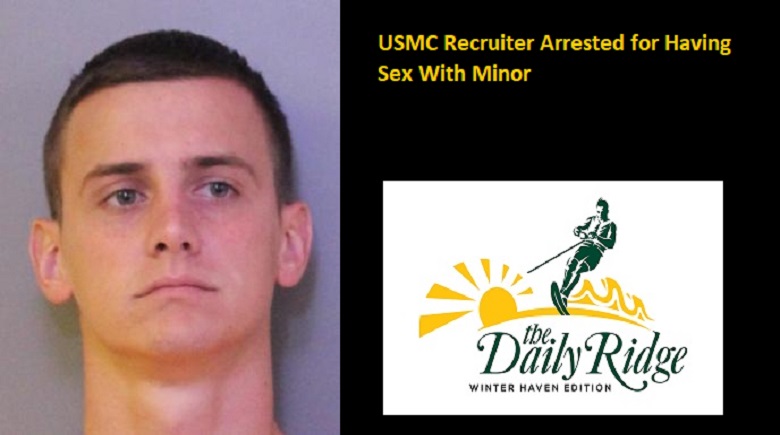 United States Marine Corps Recruiter, 26 year-old Sgt. Joshua T. Mann (DOB 11-16-90, 1130 Berkley Ridge Ln, Auburndale) who works out of the recruitment office in Winter Haven (828 Havendale Blvd., Winter Haven) was arrested and charged with two counts of Sexual Activity with 16/17 Year Old (F2) (F.S.S. 794.05(1) after authorities learned about the incidents from another student. The encounters did not occur on any school campus.
On 8-17-17 at approximately 10 a.m., Winter Haven Detectives were notified by Bartow Police Department that a 17 year-old female student at Bartow High School was overheard speaking with another student about the sexual activity that occurred with Mann. The incident was immediately reported to a teacher who in turn notified the School Resource Officer.
The victim reported that she first met Mann in February 2017 at the school. Mann was performing his recruitment duties and the contact between the two was casual. At this time the victim was not eligible to become a recruit, but Mann kept in phone contact with the victim over the summer months because she would be eligible at the beginning of the 2017-2018 school year.
In May 2017, Mann started the process for the victim to take the ASVAB exam and conduct the physical fitness test at the Marine Corps Recruiting Station in Winter Haven. The victim told detectives that no inappropriate behavior occurred during the first trip to the office. Two subsequent trips in June 2017 to the Winter Haven recruitment office ended up with the two separate sexual encounters.
Winter Haven Detectives went to the recruiting office and made contact with Mann. Mann responded to the Winter Haven Police Department where he was interviewed and ultimately arrested. Mann was booked into the Polk County Jail. He is scheduled for First Appearance tomorrow (Saturday, 8-19-17) at 8 a.m.