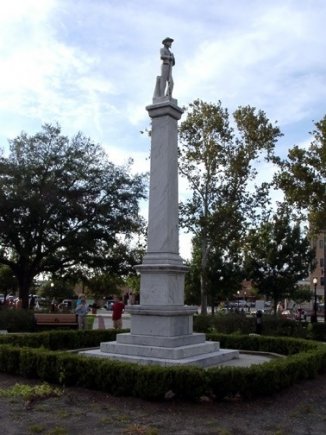 Lakeland, Florida – Hacktivist group "Anonymous" has announced a day of action on Friday, August 18, calling on its followers to tear down Confederate statues across America in response to the violence in Charlottesville last weekend. One of those monuments is the Statue of The Dead Confederates in Lakeland, Florida.
The monument honors the history of the leaders and soldiers of the Confederate States of America.
According to a local article, LPD Prepared For Rumored Plans To Remove Confederate Monument In Munn Park, the Lakeland Police Department is well equipped and ready to handle any offenders that try and remove or deface the statue.
"We're going to have a presence (at Munn Park) and we're monitoring the situation like everybody else," Gross said Friday morning. "I don't expect to see a SWAT team and officers surrounding the park. That's not going to happen."
Gross said any person or group who attempted to damage or remove the monument would face multiple charges, including possible federal ones." it said in the article.
The event is suppose to take place at 6pm.