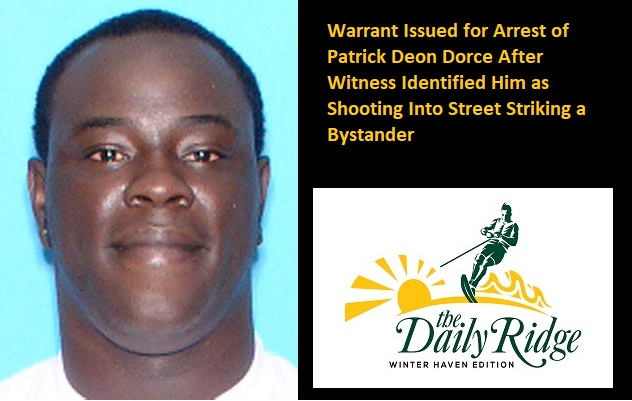 Winter Haven Police have obtained a warrant for the arrest of 29 year-old Patrick Deon Dorce (B/M DOB 6-28-88, LKA 2547 6th St NE, Winter Haven) after witnesses identified him as shooting into a street and striking a woman standing near a vehicle parked in the roadway. He is being charged with Aggravated Battery With A Firearm.
On 8-3-17 at approximately 10 p.m., a group of people were standing in the area of 213 Palmetto Ave. NW in Winter Haven. A crowd of people had gathered and were standing around talking.
Moments later, gunshots were heard that reportedly came from near the area of 3rd St and Palmetto Ave., NW. One of the rounds struck the windshield of a vehicle and hit the victim, who was leaning inside speaking with the occupants. Neither the occupants inside of the vehicle nor the victim are reported to be involved in the initial argument that took place moments before.
The victim was taken for medical treatment where she was treated for non-life-threatening injuries. Nobody else was injured.
Subsequent follow up and interviews with witnesses identified Dorce as the suspect as he was seen in the area with a small black handgun and firing the weapon.
Anyone with information on the whereabouts with Dorce is asked to call Heartland Crime Stoppers at 1-800-226-TIPS (8477). Callers can remain anonymous and could be eligible for a CASH reward.