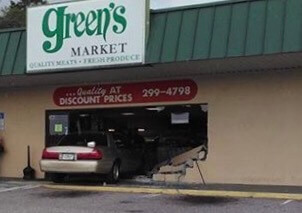 Update From Polk County Sheriff
Polk County Sheriff's Office deputies responded to a vehicle crash at Green's Market & Meat located at 3448 Ave G. in Inwood (un-incorporated Winter Haven area) on Friday, July 14, 2017, right after 4:45 p.m. 22-year-old Cheyanne Butler
drove a 2000 gold Mercury Grand Marque through Green's front door and into the building. There were no serious injuries.
The owner of the vehicle, Eugene Jacobs, went inside the store leaving passenger Cheyanne Butler in the car. Cheyanne told deputies she decided to move the car and instead of putting it into reverse, she put the car into gear and moved
the car forward into the building.
Butler is being charged with driving with no valid DL (she was never issued a driver's license) and is being booked into the Polk County Jail
–
Winter Haven, Florida – A vehicle has driven into the front of Greens Market in Winter Haven, Friday late afternoon. The market is located at 3448 Avenue G NW, in Winter Haven. The Polk County Sheriffs Office advised no serious injuries at this time. No further details available now.
We will update as more information becomes available.