Traffic Crash Sends Two People to the Hospital and Shuts Down Part of
Northbound HWY 27 for Hours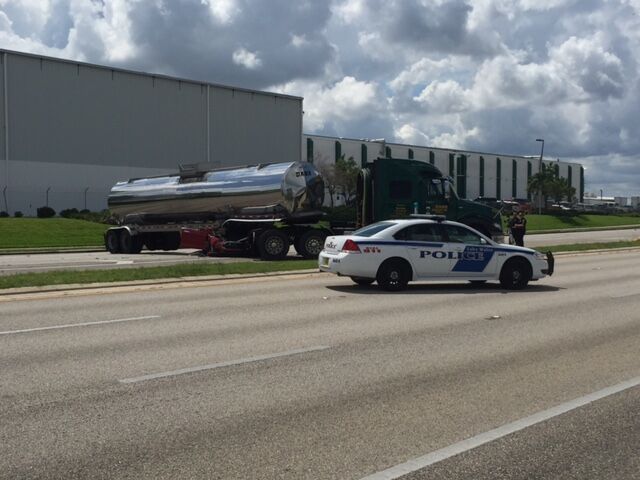 On June 26, 2017 at 8:52am officers from the Lake Wales Police Department were dispatched to a traffic crash which occurred on HWY 27 between Central Ave and Washington Ave in the northbound lanes. Upon arrival officers discovered a passenger car and a semi were involved in the crash. The crash blocked all 3 lanes of northbound HWY 27. Medical personnel responded to the scene to treat and transport the injured.
During the investigation officers learned Robert Chase, a 73 year old Panama City, FL resident, was traveling northbound in the outside lane. He was driving a 2012 International Maxforce semi pulling a tanker trailer. Eren Adriansen, a 25 year old Hallandale, FL resident, was driving a 2013 Tesla Model S northbound in the outside lane behind the semi. His passenger was Ruya Aki, a 25 year old Hallandale, FL resident. Adriansen was overtaking Chase by moving to the middle lane and he stated at the same time he was changing lanes another vehicle was changing lanes from the inside lane to middle lane. Adriansen veered to the right to avoid a side impact with the other vehicle which was changing lanes and he collided into the tanker trailer and his vehicle became pinned under the trailer. The impact caused the trailer and semi to begin a rotation before it came to rest blocking all 3 lanes of HWY 27 northbound.
Emergency responders had to remove Adriansen from the vehicle. Adriansen was airlifted from the scene to the Lakeland Regional Hospital where he is in stable condition. Aki sustained minor injuries and she was transported to the Lake Wales Medical Center. After being treated she was released from the hospital. Chase was not injured during the crash.
Due to the vehicles blocking all northbound lanes of HWY 27 traffic was diverted. The northbound lanes of HWY 27 between Central Ave and Washington Ave were closed for approximately 3 hours while the investigation took place and the vehicles were removed. At this point in the investigation no citations have been issued. Anyone who witnessed this crash is asked to contact Officer David Hernandez at (863) 678-4223.