Winter Haven, Florida – On Tuesday around 3 p.m. Polk County Sheriff's Deputies along with Polk County Fire Rescue arrived at 3505 Avenue T, NW. due to a fire on the back porch. The fire was contained to the porch and a shed. They fire was set on purpose according to witnesses.
According to reports 44-year-old, David Smith, went into a drug (reportedly K2) fueled rage and allegedly assaulted his girlfriend by punch her in the head. Smith allegedly punched his step-mother, who is currently treating for breast cancer, in the head also. During those altercations his sister tried to step in and she repeatedly had her head shoved into a wall and eventually was stabbed while trying to wrestle a knife away from Smith.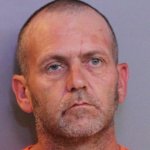 Smith was seen by witnesses dousing the porch with gasoline prior to the fire. Deputies were able to apprehend Smith.
Smith's sister was taken to Lakeland Regional Health Medical Center and received multiple stitches.
Smith faces multiple charges including 4 counts of attempted felony murder, arson and aggravated assault. According to his booking sheet Smith is a suicide risk and a death by cop risk. He is a maximum custody in the Polk County Jail.