What Not To Do When A Self-Checkout Register Goes Rogue
On April 22, 2017 at approximately 12:34 a.m., a group of eight (two are young children and one teenager), who appear to be family or close friends, entered Walmart at 7450 Cypress Gardens Blvd. One of the males (bald with large tattoo on his right shoulder and down the arm) scanned and paid cash for two items.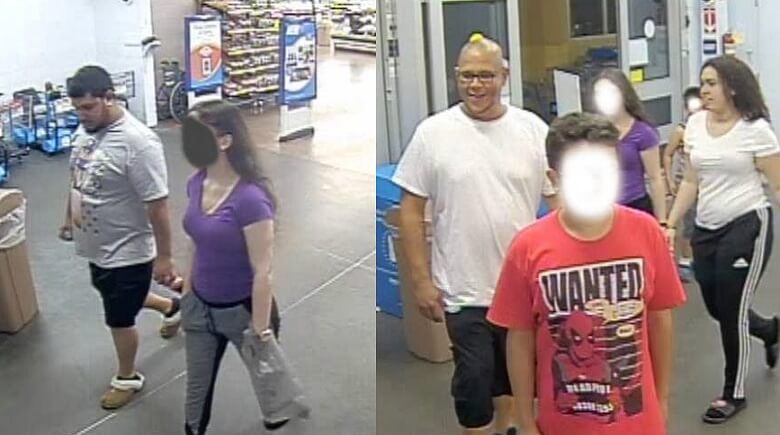 He then retrieved the change from the machine. Video shows him walking away and then returning while one of the other males is ringing up a single item.

They appear to compare the bills and obviously see that the change given back was incorrect.
What should have come out as a $5 bill as change was actually a $20 bill. Finding this obvious windfall, honest people would immediately alert the sales associate to the error – but not this group. They all start lining up to pay for one small item each in order to receive change that should include $5 – knowing they would instead receive a $20 bill. This continued on for, not five minutes or even ten minutes, but more than 20 minutes. Each one would line up and pay for a small item and cash out.
Ultimately, the store found the error and an audit concluded that $20 bills were put in the slot where the $5 bills should go. Video was reviewed and shows the group conducting the transactions. All totaled, the group retrieved $1,100 in error.
The two young children with the group are both boys, one appears to be about 10 – 12 years of age and another smaller boy about 5 years of age. The girl appears to be 13 – 15.
Footage from the parking lot shows that the group came in two separate vehicles, one newer model black four-door car and the other a silver or gray four-door car.
Anyone with information on the identities of any of those pictured is asked to call Heartland Crime Stoppers at 1-800-226-TIPS (8477). Callers can remain anonymous and could be eligible for a CASH reward.