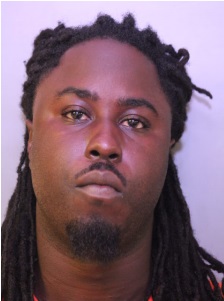 Auburndale, Florida – At approximately 2:40 a.m. this morning, Officer Cody Skinner of the Auburndale Police Department located Demeko DeSean Robinson, 07/02/1990, and arrested him on outstanding felony warrants related to the death on January 20, 2017, of 4-year-old Avion Cymani Weaver. Robinson was located sitting in his vehicle in front of 376 Century Boulevard, Auburndale.
The Office of the State Attorney issued warrants yesterday charging Robinson with: 1) Aggravated manslaughter of a child; 2) Possession of a short-barreled rifle; 3) Possession of an altered firearm; 4) Tampering with evidence; and, 5) Giving false information to a law enforcement officer during an investigation.
During the investigation of the shooting of Avion Weaver, officers recovered a 9-mm semi-automatic pistol and a .22 caliber rifle that had been shortened to an unlawful length, with serial numbers removed. The pistol had been hidden outside the apartment prior to law enforcement arrival.
Original Article
Auburndale, Florida – The Auburndale Police Department was dispatched to an unknown medical emergency
at 198 Lakeside Hills Loop, Auburndale, Florida, on Friday night, January 20, 2017, at
approximately 10:11 p.m. Officers arrived at the scene within a few minutes of the call and were initially told a four-year-old boy had hit his head on a table and was badly injured. It became obvious to officers and arriving emergency medical responders that the little boy had a gunshot wound to his cheek.
The victim, identified as Avion Cymani Weaver, a four-year-old black male, was flown to
Arnold Palmer Children's Hospital in Orlando for treatment. He was pronounced
deceased at 11:27 p.m. by hospital medical staff.
The investigation determined that Avion was inside his family's apartment alone
apparently watching television while his mother's live-in boyfriend, Demeko Desean
Robinson, a 26-year-old, was outside in the parking lot with friends. Shortly
after 10:00 p.m., Robinson went into his apartment and found Avion injured and bleeding heavily. A couple of neighbors reported hearing what sounded like a gunshot around the
same time. It is apparent that Avion found Robinson's loaded pistol and while handling it, he accidentally shot himself in the face.
The Polk County Emergency Communications Center received a 9-1-1 call from
Robinson at 10:09 p.m. He was reporting an emergency and requesting an ambulance.
During the investigation, a 9-millimeter semi-automatic pistol belonging to Robinson was
recovered from outside the apartment. Avion's mother, Deja Perry, was not home at the
time of the shooting, but returned just minutes after Robinson called 9-1-1 and
Immediately before the arrival of the first police officer.
Auburndale detectives have been in close contact with the State Attorney's Office
regarding this case and charges are potentially pending a review of the case once it is completed.
If you own a firearm, it is imperative that you keep it in a safe place so that it cannot be
accessed by children; not just because the law requires it, but because common sense.