Update February 16, 2017
Camera Thieves Have Been Identified & One Arrested – Police Seeking Joseph Romine
Shortly after the original media release and photographs of the theft suspects were distributed someone contacted Heartland Crime Stoppers providing information on both suspects. As a result of the Crime Stoppers tip Detective Metz received the suspects were identified as Beau Pike and Joseph Romine, both are Lake Wales residents. Pike was arrested on February 16 and he was booked into the Polk County Jail for Grand Theft. Detective Metz obtained an arrest warrant for Grand Theft on Romine and at this point he has not been able to locate him.
"We are thankful to the media for getting important information out to the public and we are thankful to the public for working so well with us by providing tips which help solve crimes". – Schulze
Anyone who has information on the whereabouts of Joseph Romine is asked to contact Detective Metz at (863) 678-4223 extension 265 or Heartland Crime Stoppers at (800) 226-8477.
Original Release –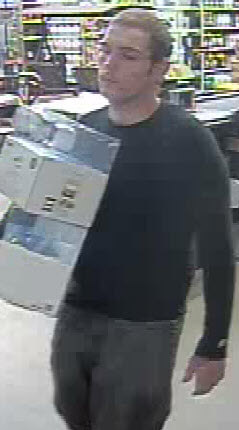 Lake Wales, Florida – On February 11, 2017 at approximately 8:30pm Wal-Mart Loss Prevention witnessed these two suspect select two Arlo HD Security Camera Systems, valued at $169.99 each, from the Electronics Department. The suspects then carried the camera systems to the Hardware Department where they removed the security devices from the packaging. The suspects then exited Wal-Mart, located at 2000 SR60 E, with the property and did not make an attempt to pay. The Loss Prevention Officer attempted to stop the suspects but they entered this silver SUV and fled the area.
Anyone with who knows the identity of these suspects is asked to contact Detective Ben Metz at (863) 678-4223 extension 265 or Heartland Crime Stoppers at (800) 226-8477.