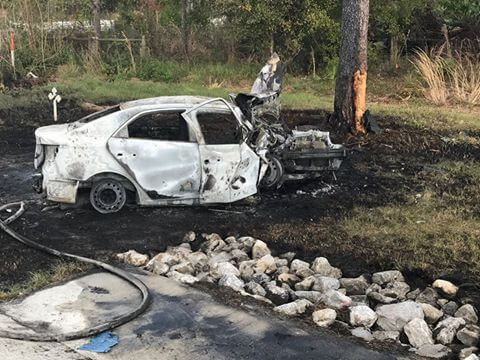 Lakeland, Fl.
(February 7, 2016) – On February 7, at 2:36 pm., the Plant City Police Department requested assistance from the Lakeland Police Department in reference to a stolen vehicle they were pursuing eastbound on I-4 toward the city limits of Lakeland. 
The stolen vehicle, a 2012 Kia Forte, had been reported stolen from the The Preserve Apartments in Lakeland on February 2
nd
.
At 2:45 p.m., Officer Scott Hutton observed the stolen vehicle at the Marathon Gas station, 4275 Lakeland Hills Boulevard and attempted to initiate a traffic stop. The vehicle failed to yield and fled northbound on Hwy 33.
At 2:47 p.m., Officer Hutton advised the stolen vehicle had wrecked in the roundabout in Polk City. A male suspect was immediately taken into custody after a brief struggle and the other occupant, a female, was later removed by additional responding officers.
Both subjects were transported to the hospital and their condition is unknown at this time. The male driver will remain in LPD custody, and upon his release be transported to the Polk County Jail. Their names are unknown at this time. Polk County Sheriff's Office is working the accident and will release additional details at a later time.