Winter Haven FFA Alumni Presents:
2nd Annual Big Bass Blast
In Honor of Bailey Tilley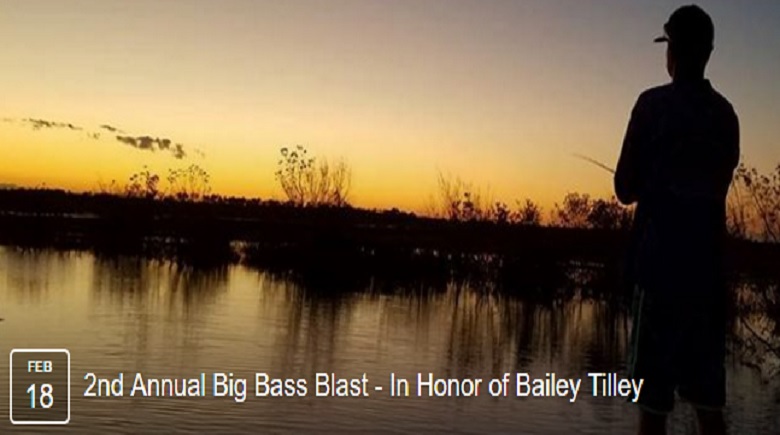 All proceeds, after payouts will go to Bailey Tilley's family.
***On-Shore Event*** There will be an on-shore event going on at the Lake Shipp Boat Ramp from 10am-5pm. So, even if you are not fishing in the tournament, you can still come and join us for some fun! We will have music, activities for kids, raffles galore (prizes, baskets, lettery & 50/50) and best of all, great company.
TOURNAMENT WILL BEGIN AT SAFE-LIGHT AND BOATS WILL BE FLIGHTED.
ALL BOATS WILL CHECK BACK IN AT 2:00 PM
For more information contact:
RICCI WOODS, President – 863-307-9101
LISA CRIBBS, Vice President – 863-224-2081
Tournament Information:
**OPEN BASS TOURNAMENT**
Registration is REQUIRED!
Location – Chain of Lakes, Lake Shipp Boat Ramp
Entry Fee – $100.00 per boat (Two Anglers)
Big Bass Pot – $20.00 extra per boat (100% Return)
Start Time – Safe-Light on February 18, 2017
Weigh-In – 2:00 PM on February 18, 2017
*All participants must be checked-in by 6:00 AM on February 18, 2017. Live wells will be inspected prior to start*
**THIS TOURNAMENT IS FOR LARGE MOUTH BASS ONLY**
Rules:
One or two man teams. No trolling or live bait will be allowed.
Respect other boats, 100 yards distance. There is a 3 fish limit, only one fish can be up to 16 inches, all others must be under 16 inches.
1 lb deduction for any fish weighed in dead. One team member must observe weigh-in.
1 lb deduction for every minute late to weigh-in. Total weight will decide the winner.
5 or more minutes late to weigh-in = DISQUALIFIED.
All fish must be returned to the lake.
All 2017 inland fishing laws apply. Entrants fish at their own risk.
Tournament will be rain or shine. Tournament Officials have the final say on disputes.
No refunds will be given. Have fun and know your support is appreciated!