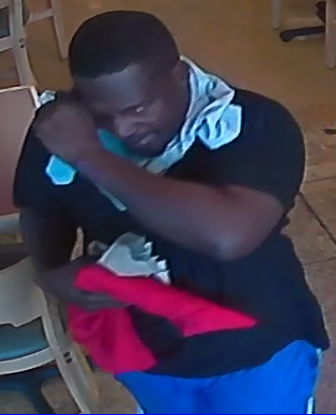 Winter Haven, Florida – Winter Haven Police are asking for the public's help in identifying and locating a suspect who robbed Jersey Mike's Subs (800 Cypress Gardens Blvd., Winter Haven). On 12-27-16 at approximately 4:12 p.m. the below pictured suspect entered the store and demanded money from the cashier. The suspect indicates he has a weapon under the red covering in his right hand though none was seen by the employee.
The suspect, who is wearing a dark colored shirt, blue shorts and has a white shirt trying to hide his face, goes behind the counter and takes money from the register. He removes the covering as he leaves the store. The cashier was uninjured.
The suspect ran out of the store south on 6th St SE. The Polk County Sheriff's Office helicopter responded and multiple WHPD units searched, but were unable to locate the suspect.
Anyone with information on this case is asked to contact Detective Charles Bolton at 863-401-2256 or call Heartland Crime Stoppers at 1-800-226-TIPS (8477). Callers can remain anonymous and could be eligible for a CASH reward.