Be sure to mark Saturday, December 3, 2016, beginning at 10:00 a.m. through 4:00 p.m. for the PCSO Annual Pet Fest.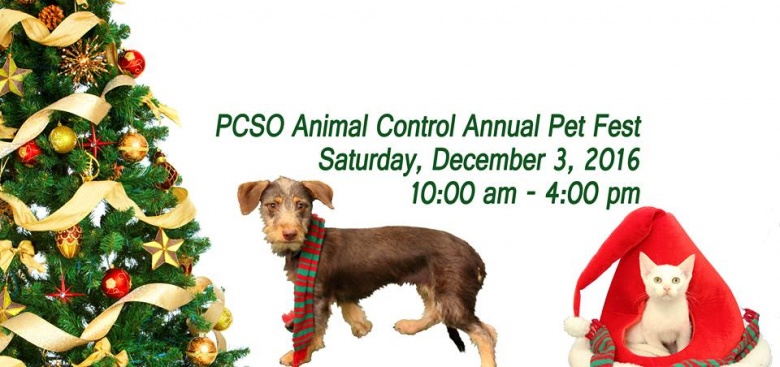 The event will be held at the Animal Control facility located at 7115 De Castro Road, Winter Haven, adjacent to the county landfill, just off the Polk Parkway Winter Lake Road exit.
And this year is expected to be our biggest event yet!
The first 50 adopters will receive a pair of tickets to Big Cat Rescue in Tampa. The tickets are for free admission – an approximately $36 value!
Santa, Mrs. Claus, and their elves will be on hand to visit with attendees, sign autographs, and take photos with you and your family including pets. Why not make a one-of-a-kind Christmas card for your friends and family, featuring your favorite pet sitting on Santa's lap?
"Tony the Balloon Guy" will be available to make balloons, and a professional face painter will also be available.
This year, there will be a petting zoo and pony rides, a 60-foot bounce house obstacle course for children, and food trucks as well. Pet product vendors will also be on site for animal related purchases.
Attendees can also expect reduced adoption rates!  Adoption fees will be discounted to $25.00 on the day of the event.
This fee is a $140.00 savings, because it includes:
·         License tag (regularly $10)
·         Microchip (regularly $15)
·         Daily food & care (regularly $15)
·         Vaccinations (regularly $25)
·         Preventive care (regularly $40)
·         Sterilization (regularly $60)
Please remember, if you are adopting a pet for a Christmas present, the decision shouldn't be made lightly. It is our goal that the pets we adopt out become your "forever friends." Once the newness of that puppy or kitten wears off, people may be tempted to bring the animals back. These decisions shouldn't be taken lightly – if you adopt a pet, please be responsible and invest in obedience classes, or read books or manuals to learn how to lovingly take care of and teach your pet to become a successful "fur-ever" family member.