EXCITING NEWS!!!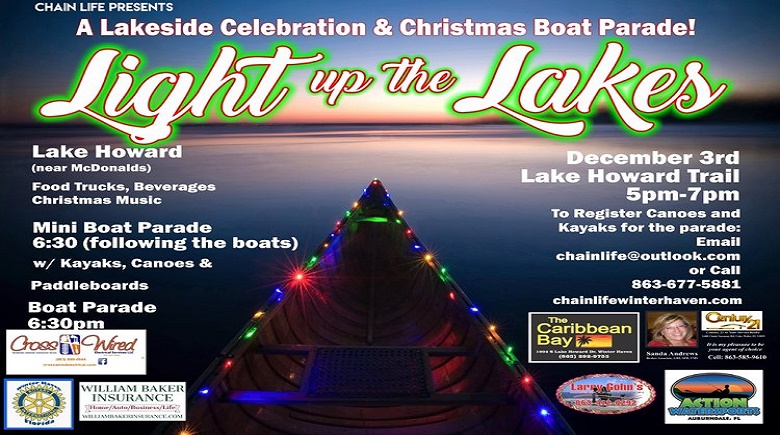 Chain Life has taken on, in partnership with The Chamber of Commerce, The Christmas Boat Parade happening at Lake Howard on Saturday Dec 3rd at 6:30PM.
This year they are bumping it up and adding a Community Lakeside Celebration down at the Lake Howard Trail with Food Trucks and Beverages. The Lakeside Celebration starts at 5PM.
They are also proud to announce their very 1st Mini Boat Parade with canoes, kayaks and paddle-boards.
The Christmas Boat Parade will be the same route as last year with the starting location at Marine Supply.
Boats line up at 6:30pm and hold up signs with a cell phone number to identify winners. Judges will be located at Old Man Franks and Lake Howard City Dock (Near McDonalds).
This years addition of a mini boat parade which will allow the man powered boats to be a part of the festivities.
Kayaks, canoes and paddle-boarders are asked to line up at the Lake Howard Boat ramp located just past MacDonald's.
Paddlers will decorate their boats and paddle past the crowd all the way to Beymer Church, turn around and paddle back to the Boat Ramp they started from.
Prizes will be given for 1st place and Most Spirited in both the Boat Parade and Mini Boat Parade.
SPONSORS are NEEDED and are as low as $50.00 See levels and registration form on link below.
In order to streamline the event they are asking boats to register now using the registration link below.