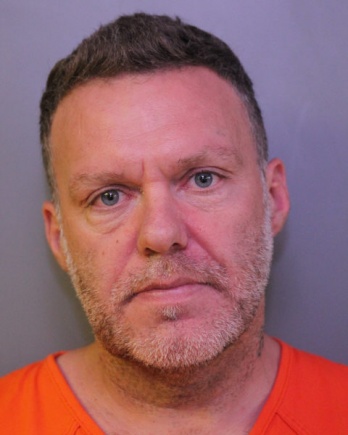 Winter Haven Police Department Press Release
A career criminal is back behind bars after a DNA match in a 2003 sexual assault has led to his arrest.
On 11-4-16, an arrest warrant was obtained for 45 year-old Stephen J. Berouty (pronounced Buh-Roo-ty) (DOB 3-26-71) after Winter Haven Detectives received confirmation from the Florida Department of Law Enforcement (FDLE) lab that DNA matching Berouty. With assistance from the Polk County Sheriff's Office, Berouty was arrested at his mother's Lake Alfred residence without incident.
The assault, which occurred on 6-12-2003, involved a woman who saw Berouty walking in the area of 2nd St and Post Ave. SW in Winter Haven just before midnight. She told Detectives he looked harmless and wanted to do a nice thing by giving him a ride. When Berouty got in the car, he told the victim he would buy her something to eat if she would go to the drive thru at Taco Bell.
When the pair got their food, they went to the boat ramp at Lake Howard Dr. and Central Ave. and ate. They had a conversation inside of the car and Berouty kissed the victim. The victim felt uncomfortable and they both exited the vehicle. While they were out of the vehicle, they sat on a bench and Berouty attempted again to kiss the victim and repeatedly touched her.
It was at this point Berouty attempted to unbutton the victim's jeans. The victim resisted and Berouty pulled a knife and held it to her throat saying, "You'll do… you'll do what I want or else I'm gonna hurt you." The victim feared for her life and she did as he said. As she was being assaulted, Berouty said, "As long as you do what I say, I won't hurt you." After the assault, Berouty fled on foot and the victim contacted police.
Officers responded to the area, but were unable to locate Berouty. The victim was taken for treatment and a sexual assault kit was obtained. The victim, who also had a laceration on her neck from the knife, was able to give a description of her attacker, but didn't know his name except she thought he said a name that started with a "J". (Berouty's middle name is John.)
It was discovered during a July 2015 audit of sexual assault cases that the kit had not been submitted to the FDLE. When this discovery was made, the kit was sent to FDLE for analysis and results were returned on 1-27-16 with a possible DNA match identifying Berouty's DNA. The profile developed from the swab was entered into the Combined DNA Index System (CODIS), which is a criminal justice DNA base.
On 3-25-16 detectives located Berouty and obtained a buccal swab to be submitted for DNA results as one more verification. An interview with Berouty was conducted and he denied knowing the victim or ever having sexual contact with her.
On 5-31-16, lab results from the buccal swab of Berouty were returned advising the DNA profile was verified as being the contributor/foreign DNA that was originally obtained from the victim's sexual assault kit submitted in 2003. On 6-17-16 the results of the DNA lab tests along with the case file was forwarded to the State Attorney's Office for review along with a complaint affidavit for the arrest of Berouty.
On 11-4-16, Detectives were contacted by the State Attorney's Office with the results of their file review. Based on those results, a warrant for the arrest of Berouty was obtained and he was ultimately arrested at his mother's Lake Alfred residence. (165 Itasca St.)
Berouty's criminal history is extensive including multiple arrests for Aggravated Assault with a Deadly Weapon, Aggravated Battery with a Deadly Weapon, multiple arrests for Battery and Domestic Violence. He has also been in and out of the Polk County Jail 24 times.