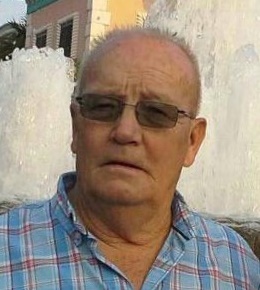 After a battle of Pancreatic Cancer, Karl William Sackett, age 72, has passed away on October 24th, 2016 at the Good Shepherd Hospice House in Lakeland, Florida surrounded by his family.
Born in Sayre Pa, on August 30, 1944, he was born the son of Roy and Mary Sackett.  Karl lived in Athens, Pa with his family until moving to Florida in 1976.  He was a self-employed Roofing Contractor and Semi-Truck Driver, also a member of AA for 32 Years.
After retiring he spent time camping, fishing and visiting family. He will be remembered for his sense of humor, and stories of the good ole days!
Karl is survived by Sue Wheeler Sackett, four children, Tammy Scott, Richard Sackett, Michelle Seifreit, and Aimee Yates, 10 grandchildren, (Amanda, Zachary, Jeremy, Ryan, Taryn, Emerson, Ashlyn, Alexis, Cameron and Evan) one great grandchild (Bryson), also five sisters (Catherine, Nancy, Mary, Joan and Janet) and one brother, (Steven), several nieces and nephews.
He was predeceased by his Mother and Father, and brothers Ken and Keith Sackett.
His wishes were to be cremated and his ashes scattered in Athens Pa.
In lieu of flowers, donations can be made to Marc Lustgarten Foundation for Pancreatic Cancer or Good Shepherd Hospice House in Lakeland, Florida.
Special thanks to Hospice Home Care nurses and staff and to Good Shepherd Hospice House in Lakeland Florida for their care and support.