The Vanguard School of Lake Wales, Florida would like to welcome its newest principal, Marya Marcum-Jones.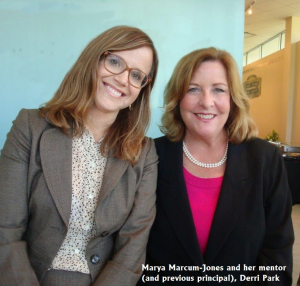 Marya began her career at Vanguard ten years ago as a middle school teacher. Since then she has taught a plethora of different subjects from social studies to facilitating the online learning lab.
In spring of 2014, Marcum-Jones began as assistant principal. It was under the leadership of Derri Park, Vanguard's former principal, that Marcum-Jones flourished. Park allowed for her to take a more active role in administration.
After Park became ill last year, Marcum-Jones stepped into her newest role as principal. She credits Park saying, "[It was] her guidance and mentoring [that] helped prepare me for this position." Since becoming principal, she has helped implement new and innovative courses at Vanguard; such as the new digital media classes this semester, which include: digital photography, journalism, web design, and digital design.
These courses will allow students to express their individuality, share their creativity, and establish their presence in the digital media world. This creative and individualistic approach is not a new concept to Marcum-Jones as she explains what she hopes for Vanguard's future, "My hopes for the school are to take our specialty [for] individualizing education and combine it with project-based and inquiry-based learning [to give] our students an authentic education that prepares them for contemporary culture."
It is Vanguard's individualization and safe environment that is conducive to students feeling successful in learning, which many have not experienced before. Marcum-Jones explains, "To see their faces light up and feel proud for the first time, that is priceless."
Along with extensive experience in education, Marya has an undergraduate degree in English and a master's degree in Education. She is currently completing a specialist degree in Educational Leadership. She has one daughter, who is in the eighth grade.
Finally, when asked what she liked best, Marcum-Jones smiled and said, "Vanguard is a family, and as a part of that family, every student can find a friend or a group, some who haven't had friends before. That means a lot."