Updated Notes On Grady Judd Briefing-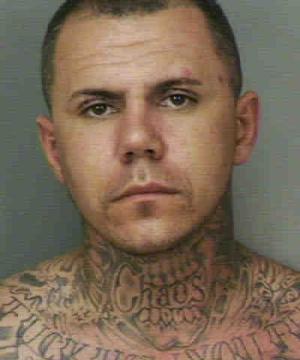 Detectives belonging to the HIDTA task force conducted a traffic stop on 32-year-old Francis Perry, a known convicted violent felon at 2737 Golfview Street in Lakeland, around 5:15 p.m. – this is not Perry's home
*       Perry has an active warrant for his arrest – fugitive from justice – his last registered address is 272 18th St NE, Winter Haven
*       Perry had a trafficking amount of what appears to be Meth in the car
*       Officers from four agencies: PCSO, Lake Wales P.D., Haines City P.D, and Winter Haven P.D., approached Perry's car
*       All of the task force members were clearly identified with vests with SHERIFF written across the chest and back
*       As they approached the car, Perry shot at the officers
*       He was the only occupant of the car
*       The officers immediately returned fire
*       Perry was shot multiple times
*       The officers called for medical assistance and began CPR
*       Perry was transported to an area hospital and went into emergency surgery
*       It is standard protocol that the officers involved in the shooting will be placed on paid administrative leave
*       By agency policy, there will be four independent investigations related to the shooting:
o       PCSO Homicide Unit will conduct a shooting investigation
o       PCSO Administrative Investigations will conduct an internal investigation to determine compliance with agency policy
o       State Attorney's Office is on-scene and will conduct an independent investigation
o       HIDTA members will continue with their criminal investigation into the trafficking amount of drugs
o       At the conclusion of these investigations, the reports will be forwarded to the three other involved agencies for their own internal investigations
PERRY'S CRIMINAL HISTORY
*       Perry admitted to two different law enforcement agencies that he was a member of a white supremacist movement
*       Lee County prior charges: Aggravated Assault With a Weapon, Robbery, Burglary, Grand Theft, Dealing in Stolen Property
*       Polk County prior charges: Attempted 2nd Degree Murder, Resisting Arrest, Fleeing to Elude, Impersonating a LEO, Unlawful Possession of a Handcuff Key, Possession of Firearm by Convicted Felon, Giving False Info to LEO During Investigation, Grand Theft, Trespassing, Forgery, Possession of Meth, Possession of Marijuana, Possession of Controlled Substance, DWLSR, Vehicle Theft, Burglary
*       2014 – sentenced to 1.5 years for Meth Possession & Agg Assault With Deadly Weapon (original charge Att 2nd Deg Murder, pled down)
*       March 2016 – 6 months ago – released from state prison
*       Upon release from prison he was placed on conditional release – he absconded and currently has a felony warrant for his arrest
HIDTA = High Intensity Drug Trafficking Area task force
—
​Lakeland, Florida – PCSO is investigating an officer-involved shooting that occurred at Woodland Ave and Golfview St in Lakeland.
Preliminary information so far is that the HIDTA (High Intensity Drug Trafficking Area) task force, comprised of officers from several local agencies, was conducting an investigation when a suspect opened fire on them. Officers returned fire. The suspect has been transported to a hospital. No officers were injured.
More information will be released as soon as possible.