Fight Off the Summer Heat; Make Life Cool By The Pool!

With summer bearing down and temperatures on the rise, nothing is more relaxing than a dip in the pool.
Swimming is a great recreational activity for people of all ages. Recreational swimming can provide you with a low-impact workout and it's also a good way to relax and feel good.
But keeping a pool working properly can be tedious and expensive as well as time consuming.

Maintaining a pool can practically be a full-time job. There are many books that offer help for the do-it-yourselfer's, but there is no reason to spend all of your time drowning in pool-related problems.
To be sure to get the job done right, professional pool maintenance companies are the best bet.  But be warned!…not all professional pool maintenance companies are equal!
Even though cleaning a pool doesn't require a license, you should always look for a company that is licensed and insured.
" Although pool cleaning itself doesn't require a license; any repairs including motor replacement, work on the pumps, filters, salt system and heater installation requires a contractor's license, which we have!" says 34-year-old Mike Williams of Blue Thumb Pool Care.
After moving to Florida from Brazil, Indiana when he was fifteen, Mike settled in Frostproof where his grandmother helped get him a job at a local pool service company.

Through high school and college, Mike worked over a decade perfecting his craft before deciding in 2008 to launch Blue Thumb Pool Care.
"My dad, Bob Williams has helped me since I started on my own in 2008. As the business grew, I hired two more pool techs to join the team; Cody Laster who has been with me for 3 years now and Jason Davis who has been with me for over a year".
With its team now in place, Blue Thumb Pool Care has expanded to cover most of Polk County as well as north Highlands County.  
"We offer many different types of services from general pool service to the repair or replacement of equipment.  We are starting to get more involved with the remodeling side of the business as well".
A pool…like a car, is an investment……it must be maintained to protect its integrity as well as its value.

Just like tires, oil and gas affect a car's performance; a pool works in unison with the pump, the filter and Ph balance of the water, all of which can affect your pool's performance.
Some good reasons to hire a pool service is peace of mind, knowing that your pool is being cared for properly and that you don't have to transport and store chemicals.  You also don't have to worry about the cleaning of the filtration equipment which can sometimes be a chore. 
An experienced tech also keeps an eye on the equipment running the pool  and can proactively take care of a problem before it gets out of control and expensive.

Numerous examples can be cited where a problem such as a leak was spotted on the pool pump and was fixed before it ruined the motor; preventing more damage and what would have be a costly repair.
It's no secret……Blue Thumb offers superior customer service…It's That Simple!
So Relax…unwind…and get in a flip-flop state of mind knowing that the professionals at Blue Thumb Pool Care are at your service and are available to give you that free time and peace of mind you so deserve.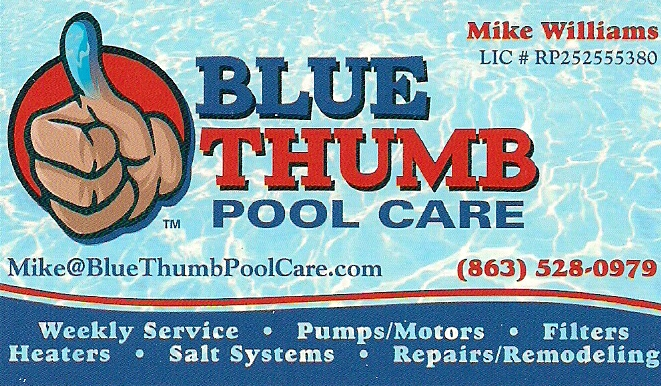 Contact the professionals at Blue Thumb Pool Care at (863) 528- 0979