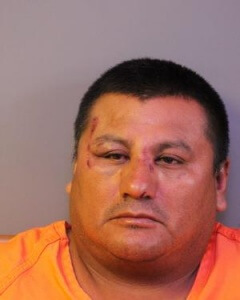 Winter Haven, Florida – A Winter Haven man chose the wrong residence to attempt to steal clothes from.
On 8-31-16 at approximately 5:15 a.m., 42 year-old Adrian SanJavier (DOB 5-17-74, Rochelle Dr., Winter Haven) entered the porch of Quinton Jackson (Ave F, SW, Winter Haven) and started taking clothes off of the porch. Jackson, who was getting ready for work, heard his dog barking frantically, which was out of the ordinary.
Upon opening the front door, Jackson saw SanJavier run out of the porch door. Jackson called police while he chased SanJavier and at one point, SanJavier turned and swung at Jackson. Jackson was able to duck and was not struck. However, this enabled Jackson to tackle SanJavier and a physical altercation ensued. Jackson was able to keep SanJavier in check until law enforcement arrived.
Due to his injuries, SanJavier was taken to Winter Haven Hospital where he was treated and then booked into the Polk County Jail. Jackson did not need medical attention.
SanJavier was charged with Burglary to an Occupied Dwelling (F2) and Petit Theft (M1).