The Agricultural and Labor Program's Low Income Home Energy Assistance Program (LIHEAP) will be accepting applications for light bill assistance at Wednesday's LPLI Energy Fair at the Winter Haven Recreational & Cultural Center located at 801 Avenue T NE in Winter Haven.

The event starts at 10:00 AM and lining up will be restricted to 7:30 AM and NO SOONER.

There will be plenty of other vendors who will be offering services including health care, child care and education, mental health support as well as many other community support services.

Participating vendors include Duke Energy, Community Services Block Grant (CSBG), Central Region Advisory Council (ALPI), THAP-Coastal Bat Properties, Noel Denmark Insurance, Clark's House, Headstart, Access Wireless, Central Florida Health Care, Early Learning Coalition, Florida Department of Health HIV, Healthy Families, Healthy Start, New Beginnings of Heartland, Polk Indigent Health Care, Senior Connections, Total Care Consultants, Humana, Tri-County, Peace River, George Harris Youth Shelter, Stand Up Polk and Simply Health Care.

To apply for LIHEAP assistance with your electric bill you must provide copies of the following: (No originals please)

> Photo ID (not expired) for all household members over 18 years of age.
> Social Security Cards for all household members
> Proof of Income for the past 30 days (No Bank Statements)
> Complete Light/Electric Bill
> Food Stamp Approval Letter (if receiving assistance)
> Section 8 or HUD Housing Rental Form 50059 (if applicable to you)

PLEASE NOTE: All photo copies will stay with your application….First Come, First Served Eligibility Requirements Apply!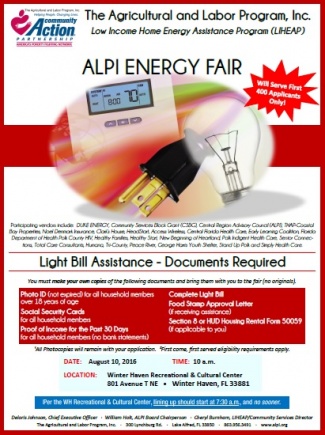 For More Information Call 863.956.3491 or visit www.alpi.org