Tip Leads to Guns and Drugs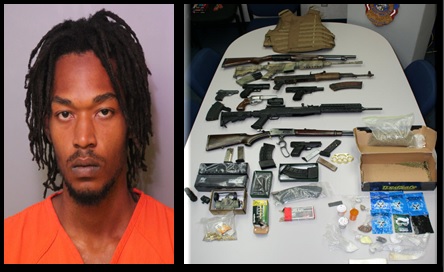 On July 29, 2016, Lake Wales Police Department Detectives Alvin Maultsby and Aubrey Davis received information concerning the location of a possible stolen firearm. The Detectives responded to 504 South 4th St Apartment 10E where they were met by the resident, 18 year old Alex Works.
When asked about the weapon, Works surrendered a 40 caliber Walther semi-automatic pistol and a Highpoint 9mm semi-automatic pistol. Works, who is currently on juvenile probation for theft of a firearm and domestic violence was taken into custody. During questioning it was discovered that there were other firearms in his bedroom. The search of the room revealed an additional 8 weapons including 3 assault style rifles, a bullet proof vest and numerous rounds of ammunition. One rifle that was recovered was reported stolen to the Polk County Sheriff's Office in 1992. Detectives also recovered 54 Xanax pills, 44 Hydrocodone pills, 88 Alprazolam pills, 17 Tramadol pills, 6 Oxycodone pills, 3 methadone pills and 60 Bentropine pills. Works was charged with the following;
1 count of Possession ammo by juvenile delinquent
9 counts of Possession of a firearm by a juvenile delinquent
2 counts of Possession of a firearm with alter/removed serial number.
Further charges are pending concerning the narcotics recovered.
Anyone with information concerning case is encouraged to contact Detective Alvin Maultsby at (863)678-4223 ext 265