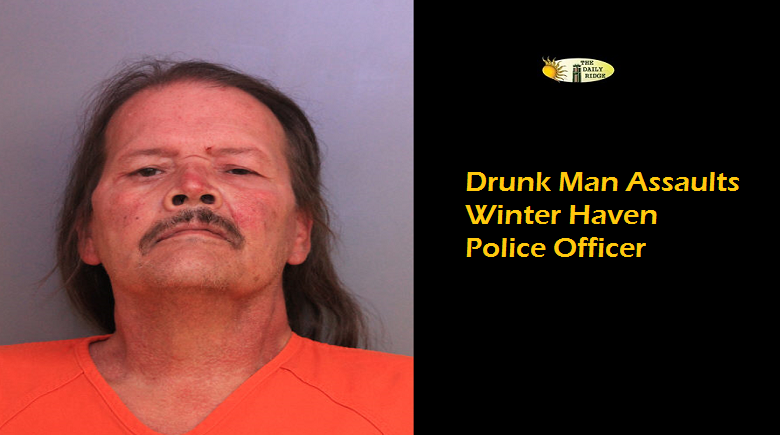 At approximately 11:30pm on July 9th,  Winter Haven Police responded to 145 Ave E, SW in Wiinter Haven reference to a domestic disturbance.
Upon arrival, Officer Luis Garcia entered the house and heard shouting and banging on a bedroom door where he made contact with Stephen Joseph Mulholland, 63, who was in his bedroom sitting on his bed.
Mr. Mulholland, facing the officer on the bed, was complaining that he was upset with his spouse and two daughters and said they were freeloaders.
Officer Garcia asked Mr. Mulholland to step outside so they could talk privately to which Mr. Mulholland responded he had issues with mobility and refused the officer's request.
Mr. Mulholland then began shouting at the officer asking if he had a warrant. The officer responded by telling Mr. Mulholland that he needed him to remain calm and asked what solution they could come up with to make the night go smoothly with his family.
The officer smelled alcoholic beverages on Mr. Mulholland and asked if he had been drinking. Mr. Mulholland responded by standing up on his own without the aid of a cane or walker which was just feet away in his bedroom and leaned over and opened a cooler that was full of Rolling Rock beer cans and a bottle of tequila that was almost empty.
Mr. Mulholland then stated that he was fine and that he was just going to sleep off his anger. Officer Garcia closed the bedroom door and was leaving the house when he heard a loud banging on the bedroom door again.
The officer returned to the bedroom and asked Mr. Mulholland why he was banging on the door again to which Mulholland replied "Get the F**k out of my house!" and proceeded to stand up again on his own power.
Officer Garcia stated to Mr. Mulholland that he couldn't leave until he calmed down and that the officer knew that everything would be ok.
Mr. Mulholland then grabbed a black Vietnam veteran's hat, placed it on his head and walked towards the officer coming almost face-to-face with him while shouting "I was fighting wars when you were sucking on your mother's tit!".
When the officer asked Mr. Mulholland to step away from him; Mr. Mulholland stated  "I got something for you P**sy and proceeded to reach for a cane that was near the headboard of the bed.
Mr. Mulholland raised the cane over his head and tried to strike the officer in the face. The officer quickly blocked the strike with his forearm; knocking the cane from Mr. Mulholland's hands. The officer then spun Mr. Mulholland around face down on the bed and placed him in custody.
But Mr. Mulholland was not done.
After transporting Mr. Mulholland to WHPD, he complained about a scratch on his face that occurred during his arrest. EMS was called and Mr. Mulholland was transported to Winter Haven Hospital still under Officer Garcia's supervision.
Once at the hospital, Mr Mulholland began shouting again at Officer Garcia stating that "He was a punk ass bitch" and that " When I get out of jail, I'm going to kick your ass, and if I can't do it, I'm going to hire someone to do it!". "That cop is going to have to look over his shoulder for the rest of his life!"
Mulholland stated to Officer Garcia several times that the officer should stay away from him or Mulholland was going to kick him in the face, creating a fear that he would try and strike the officer again if he had the opportunity.
Once medically cleared of any and all ailments by hospital staff, Mulholland was charged with 1 count of aggravated battery on a LEO; 1 count of resisting without violence;  1 count of assault on a LEO; 1 count of corruption by threat against a public servant and was transported to the Polk County Jail.