Belk Winter Haven at Citi Centre will be holding their 9th Annual Pampering Event to fight cancer in September and are looking for vendors and sponsors to come out and help join the fight against cancer.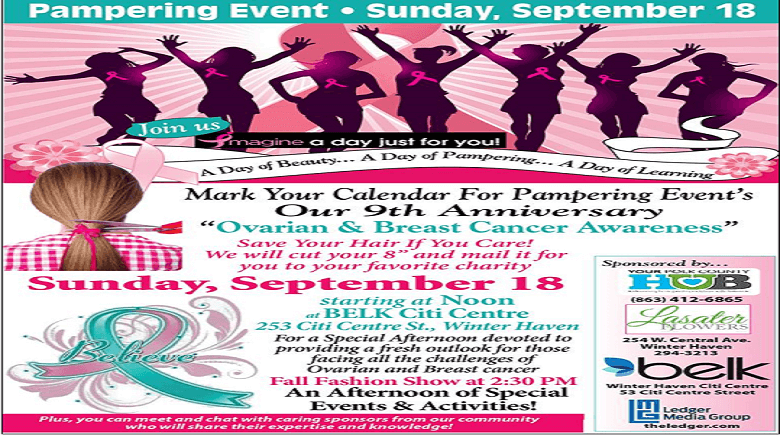 The annual event features exciting activities and special events along with vendors and prizes including a Fashion Show where models who are also cancer survivors take center-stage in the latest fashions.
The spot light for this years Pampering Event will be "Breast Cancer & Ovarian Cancer Awareness". The theme this year is Pink for Breast Cancer and also Teal for Ovarian Cancer.
There will also be two different hair styling salons on-site that will be offering to cut your hair (8″) for the charity of your choice and will mail it for you to the charity to be made into wigs for women & children.
Tucker & Tillis Limousines will also be there and for a small donation will be giving limo rides to any and all guests who would like the experience.
The event will start at noon on Sunday Sept 18th…..the Fashion Show starts at 2:30pm
Bond Clinic and Gessler Clinic have already reserved their spot at this years event.

Should you wish to partake by helping as a vendor or food vendor, donating a door prize or a sponsorship; please contact Chris Hazelwood at (863) 412-6865 for more information