A 30 year-old man has been arrested after stabbing another man over a reported $2 debt.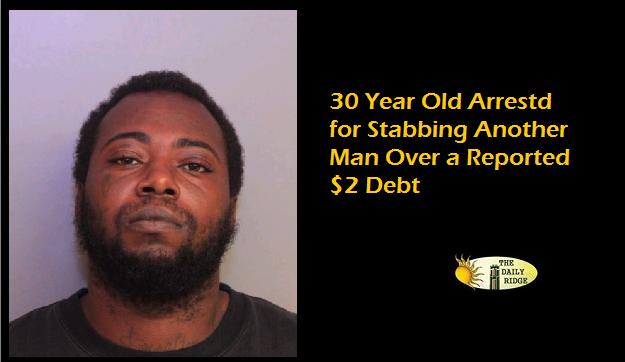 On 7-8-16 at approximately 5:20 p.m., 36 year-old Odell Kindricks Jr. (DOB 7-28-79) was walking on the sidewalk in his neighborhood along 3rd St. N.W. in Winter Haven.
Kindricks was approached by 30 year-old Michael Stevenson (DOB 3-25-86, 1555 3rd ST NW, Winter Haven.) According to Kindricks, Stevenson told him that he wanted his $2 back that was owed. When Kindricks refuted the supposed debt, Stevenson stabbed Kindricks in the upper back and ran away.
Kindricks fell to the ground, but immediately got up running to the area of his own residence located at 306 Palmetto Ave. NW. A witness in the area who saw the altercation contacted 9-1-1 and emergency personnel immediately responded. Officers circulated the area looking for Sevenson, but he was not located at that time.
Due to the severity of his injuries, Kindricks was airlifted to Lakeland Regional Health where he was listed in critical condition. At the time of this release, Kindricks is in stable condition.
After interviews with multiple witnesses who were in the area as well as interviews with the victim, Stevenson was identified as the suspect who stabbed Kindricks. An arrest warrant was obtained and today (7-9-16) at approximately 9:20 a.m. Stevenson was taken into custody at his home (1555 3rd ST NW, Winter Haven) without incident.
Stevenson, who has an extensive criminal history, was booked into the Polk County Jail on charges of Attempted Second Degree Murder with a deadly weapon.
"This senseless attack on a citizen walking in his own neighborhood is tragic," said Chief Charlie Bird. "I applaud the swift actions of the residents in the neighborhood who worked with us along with the victim to identify Stevenson and get him behind bars."
A snapshot of Stevenson's criminal history with penalty level is below:
Battery M1 (2x)
Obstructing Justice F3 (2x)
Carrying Concealed Weapon M1 (4X)
Possession of Weapon F2 (3x)
Resisting Officer WO Violence M1 (2x)
Drugs-Deliv/Distr F3
Marijuana Possess M1
Prob Violation F3 (2x)
Drugs Deliv/Distr F2
Marijuana Possess F2
Poss of Cocaine F3
Poss of Cannabis F3
Prob Violation F2
Drugs Equip Possess M1
Cocaine Possess F2 (2x)
Drugs Equip Possess M1
Drugs Equip Possess F3