Tender Touch Pet Boutique;  A Cut Above!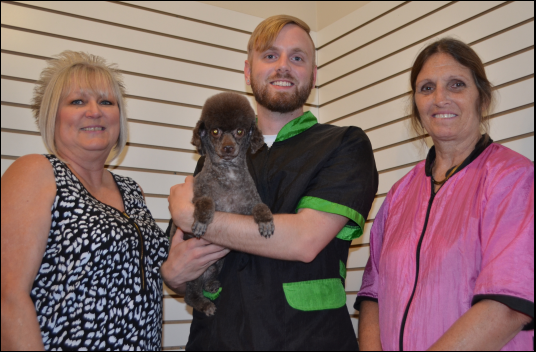 It's a ruff job, but someone has to do it.
Professional pet groomers work with dogs and other animals in pet stores and pet grooming boutiques to make pets look good. They shampoo, trim and shape fur and clip nails as well as other tasks, all of it to make your pet look its very best.
The professionals at Tender Touch Pet Boutique are known for being great with both animals and people, intently listening to the owners' requests for how they want their pet to look as well as keeping the animals calm and safe in what can often be a stressful situation. Grooming is important part of making your pet look and feel its best.
But regular grooming is necessary for so many more reasons than just getting a "hair-cut" for your pet.
It's also one of the most basic and important steps in caring for your pet and helping to maintain their good health. Grooming often provides an early and pro-active opportunity to spot signs of allergies, tumors, abrasions, and other medical issues all while helping to catch the small problems before they become big ones. It's also an essential step in keeping your pet clean and reducing the risk of parasite infestation and bacterial infections.
But did you know that grooming is also a highly competitive art form?
Competitive grooming is an art that has the high intensity edge of auto racing where you're pitted against other equally skilled experts racing the clock; all while meticulously shaping, cutting and clipping with the artistic and proficient talents of a surgeon. One wrong snip or one bad clip and you're out of the race!
Robby Hartley is the head groomer at Tender Touch Pet Boutique and is the son of owner Joanie Bailey.
Robby started working with animals when he was very young.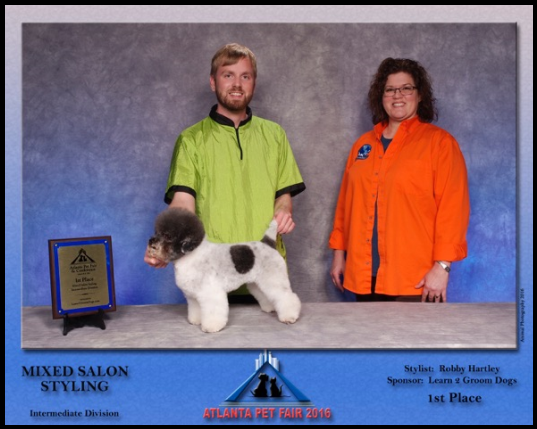 "He got into showing dogs in the 4-H club and he was really good at it" says Joanie "He did 4-H from the time he was 10 years old until he graduated and even after that he went back and taught dog classes"
Robby entered his first competition in 2012 when he attended the National Dog Groomers Association of America "Fun in the Sun" trade show in Orlando.
That same afternoon he won First Place in the Terrier Class Division C working on an Australian Terrier. Dogs with a wire coat including terriers, requires a specific grooming method called hand stripping. Hand-stripping is a type of grooming method that groomers use to remove excess hair from the dog's coat instead of cutting or shearing.
But the biggest win that day came when Robby took home the Best Groomed Dog Award in Division C and had to move up a division because of this award. Since then he has placed many times in competitions around the country and even has first and second place wins as recent as this year. Robby's future goal is to become a team member on Groom Team USA and one day make the travel team competing against other groomers from other countries in an Olympics-style competition.
Robbys passion for competition was contagious and his excitement was shared by the other groomers at the salon.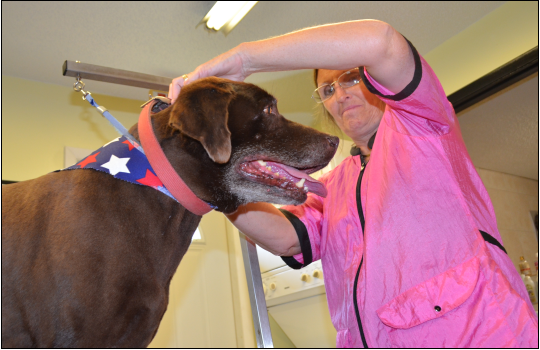 Denise Rhuda had been a bather for the former owners when Tender Touch Pet Boutique purchased the business in December of 2008 and stayed on with the new owners. She had become skilled in the business after being taught how to groom by the previous owner and had a desire to learn more.
When a position opened about a year later; owner Joanie Bailey offered her a chance to get into full-time grooming and she accepted. Robby shared his excitement about competitive grooming with Denise and soon her interest in competition was peaked.
Denise decided she wanted to hone her skills in the grooming trade further and after accompanying Robby in 2012 for his competition; Denise returned to the Fun in the Sun Trade show in Orlando the following year to attend seminars and continued to attend each year thereafter. Denise won her first competition when she captured Third Place in the Sporting Class Division C in October 2014.
When you visit Tender Touch Pet Boutique you're guaranteed that you and your pet are getting the best professional service at the most affordable prices from a staff of award-winning groomers ready to pamper your pet to perfection.
Tender Touch Pet Boutique is open Mon – Fri from 8:15am until the last groom is done.
They offer several service options on their website at  www.tendertouchpetboutique.com
July's special offering is a Nail Trim for only $8.00 when you mention the Daily Ridge! They also offer Nail Caps which cover your pets nails with a soft gel cap to help protect both the pet and the owner from injury due to sharp claws; especially important to owners who take blood thinners or similar medications.
Tender Touch Pet Boutique is located at 411 N Scenic Hwy, Lake Wales, FL 33853
Call (863) 676-7279 for more information or to make an appointment today!