LAKE MAUDE RECREATIONAL COMPLEX MOVES FORWARD IN WINTER HAVEN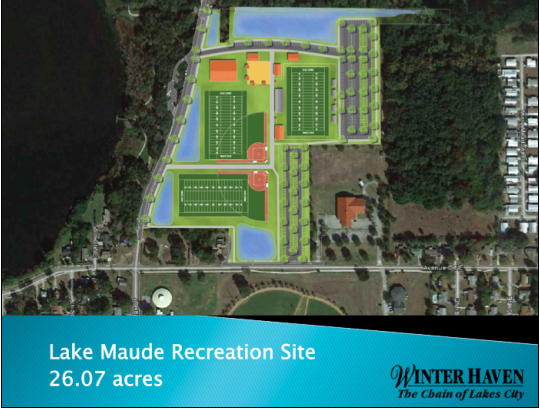 The new Lake Maude Recreational Complex moved one step closer to reality at Monday's Winter Haven Commission meeting.
Winter Haven Commissioners unanimously voted on June 27th to approve a $321,500 contract with Dundee-based company Envisors for engineering and permitting at what will be the location of the new Lake Maude Recreational Complex estimated at a cost of about $3 million dollars.
The  27-acre facility will be located on the east side of the lake.across Lake Maude Dr and in its first phase of construction will include multipurpose fields including a football field that will be the new home field to the Winter Haven Wolverines Youth football organization.
For now, the Wolverines will continue to play their home games during the upcoming season at the same field as Winter Haven High School.
Construction of the Lake Maude Recreational Complex is set to begin in early 2017.
GO BLUE DEVILS!…..GO WOLVERINES!