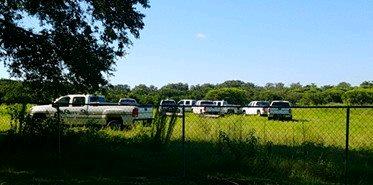 Lake Wales, Florida – Search continues for an armed suspect who carjacked a dump truck and shot at a Polk County Sheriff's helicopter Thursday afternoon. The Polk County Sheriff's Office patrol deputies are in the area S.R. 60 & Mammoth Grove Rd. today actively patrolling and canvassing, and continuing to follow up leads in this investigation. PCSO Agricultural Crimes deputies are in the area this morning with four wheel drive all-terrain vehicles, trucks, and a boat. They are involved in an evidence search.
Deputies suspended the active search last night. They did continue beefed up patrols on roads and through communities close to the last known area of the suspect.
According to Polk County Sheriff's Office spokesperson, Scott Wilder, the sheriff's office is hopeful they will have a fingerprint match this morning of the suspect and DNA touch evidence will be expedited with the help of the FDLE. A suspect should be developed known soon.