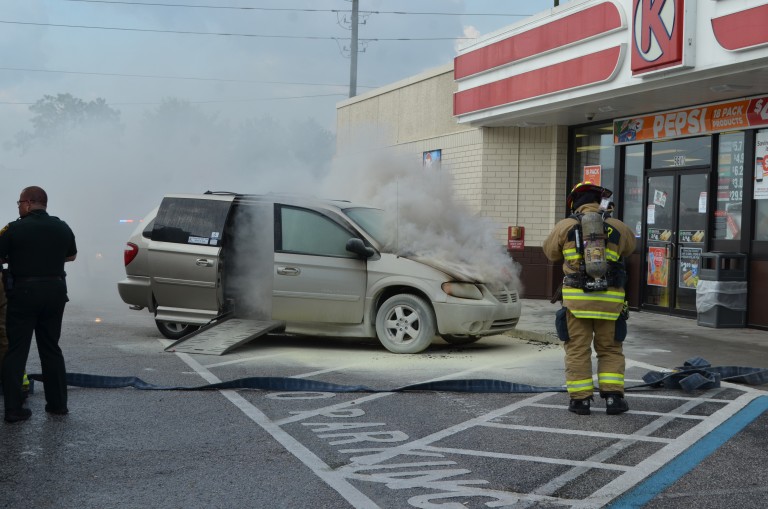 For Michael Potter it was just a normal day delivering lost luggage for Tampa International Airport when he stopped at the Circle K at  5600 Cypress Gardens Blvd in Winter Haven for a drink.
That's when he noticed a gold 2005 Dodge van billowing smoke with a woman in the drivers seat trying to get out.
68-year-old Karen Doutre of Dundee had just followed her boyfriend into the station with her van so he could fill up his car which he was driving separately.
Ms Doutre noticed smoke and smelled oil so she pulled away from her boyfriends car and the gas pumps as she tried to figure out what was wrong.
Ms Doutre and her boyfriend who are both disabled and use scooters for mobility had just purchased a Dodge Entervan which is a custom-made van with an automatic side ramp. Ms Doutre activated the ramp but the van filled with smoke while she was waiting for the ramp to extend and now she was having to use her shirt to cover her mouth to breath.
That's when Michael Potter jumped into action.
Mr. Potter covered his mouth with a shirt also and opened the drivers door. He spun the drivers seat around towards the back of the van, hopped in and helped Ms Doutre into her scooter. He then pushed the scooter and Ms Doutre down the now extended ramp out of the van to safety.
The Fire Rescue Paramedics checked both for smoke inhalation and both were cleared and released.
The van suffered extensive damage to the engine compartment and also the front interior.
Afterwards Ms Doutre thanked Mr. Potter for helping and both chatted awhile while Ms Doutre was awaiting a tow truck.
Another safe ending and another example of the courage and quick thinking by everyday heroes!