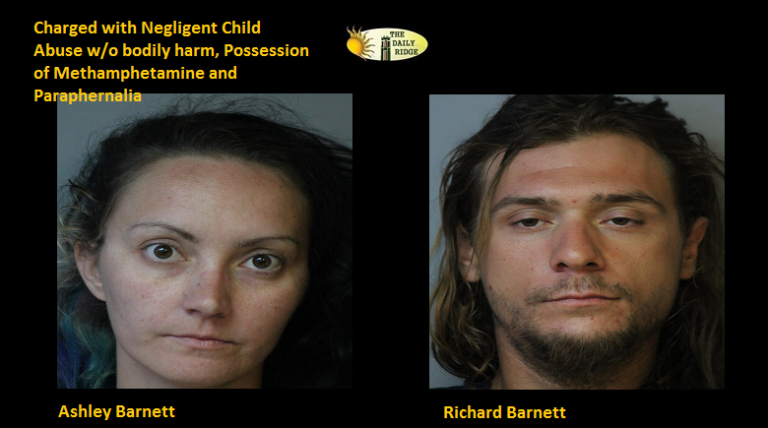 A Winter Haven couple is facing Child Neglect and drug charges after a two children in their care were found in the home under deplorable conditions.
On 5-22-16 just before 1 a.m., Winter Haven Police officers responded to the SW area residence to investigate the tip of possible narcotics use and child neglect. When officers arrived, they found 26 year-old Ashley Barnett in the home with a two and four year-old who were in her care.
The horrific condition inside of the home caused immediate concerns for officers. The home, which did not have running water, had a strong pungent odor of rotten food and feces. Flies began swarming around officers as they attempted to check the conditions inside of the home.
The mattresses were completely covered in brown stains and none had any sheets. Trash littered the floors and bags of garbage were piled throughout the residence along with rotting food shoved into the corners. Brown smudges on the walls were determined to be feces smeared throughout the residence.
As officers surveyed the residence, several baggies with white residue identified as methamphetamine, glass pipes and a small butane torch were found on a bed. Additional drugs and paraphernalia were located inside of the laundry room.
The kitchen was strewn with rotting food with minimal edible food available. The bathroom toilet was full of feces and the bathtub held about two inches of water with dead and live roaches floating in the water. Barnett showed officers the only bit of fresh water in the home was in a gallon jug, which only had about a quart left inside.
Barnett was placed under arrest and when asked about her husband who also lives there, she stated he was out retrieving water, but had been gone for three hours. He was eventually located at another residence and placed under arrest.
The children are being cared for by a family member.
Ashley and Richard Barnett were both charged with Negligent Child Abuse w/o Bodily Harm (F3), Possession of Methamphetamine (F3) and Possession of Drug Paraphernalia. They were both booked into the Polk County Jail.